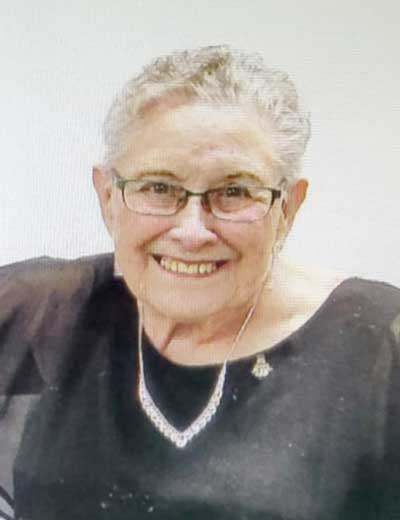 November 11, 1930 – December 21, 2022
It is with deep sorrow and much love that we mourn the passing of Gladys Grace Maloney, of Meadow Lake on December 15th at the age of 92 years.
She is survived by her children: Dianne (Kelly) Schneider, Kathie (James) Lepine, Patricia (Kevin) Thiessen; 21 grandchildren; eight great grandchildren and one great great grandchild.
Gladys was predeceased by her loving husband of 37 years, William (Bill) Henry Maloney; her parents: Fern and Ralph Yake; grandson: Greggory Nelson; son-in-law: Russell Nelson; foster daughter: Dorothy Kocur; and sisters: Hazel Haselmire and Myrna Stevenson.
Gladys was born on November 11th, 1930 in Chaplin, SK to Ralph and Fern Yake. The family moved from Chaplin to the Meadow Lake area in the early 1930's. Gladys attended school in Meadow Lake and, after graduation, attended secretarial school in Prince Albert, SK.
On August 9th, 1950, she married Bill Maloney in Meadow Lake. Together they farmed in the Four Corners District until 1962, then moved to Meadow Lake and opened Maloney's Photo Studio. Gladys worked in the studio, often doing the retouching of photographs, and adding colour to black and white photos.
In 1972 Gladys moved to Lloydminster and worked as a waitress while she took a course at Reeve's Business College. Upon returning to Meadow Lake in 1974, she worked at the Meadow Lake Sawmill until her retirement in 1991.
Gladys enjoyed photography, gardening, traveling, camping, scrapbooking and crafts of all kinds. Pets held a special place in her heart and the household always had at least one pet. Family was very important to Gladys. She loved having family visit and made certain to attend family functions.
Giving back to her community was important to her and Gladys was always helping someone. She was a regular visitor at the Lodge, and often gave car rides to seniors and helped them with shopping. She was a long-time member of the Royal Canadian Legion Ladies Auxillary and very involved with the Holy Trinity Anglican Church, being a member of the Anglican Church Women, serving on the Vestry and teaching Sunday School. She joined TOPS in 1980 and in 1993 became Area Captain, which meant serving as the captain for TOPS chapters in a large area surrounding Meadow Lake. She was featured in the booklet "Meadow Lake Women of Influence."
The Funeral Service was held at the Lutheran and Anglican Church on December 22, 2022 at 1:30 PM with The Reverend Canon Donald J. Skinner officiating. Burial followed at the Woodlawn Cemetery, Meadow Lake, SK. Martens Warman Funeral Home was entrusted with the funeral arrangements.
Memorial donations may be made to the Breast Cancer Society of Canada, 101-415 Exmouth Street, Sarnia, Ontario N7T 8A4; or the Saskatchewan SPCA, 511 45 St W, Saskatoon, SK S7L 5Z9; or the charity of the donor's choice.
The family wishes to send a special thank you to the staff at the Meadow Lake Hospital for their care and compassion.