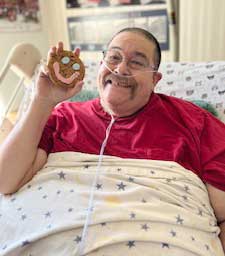 February 17, 1963 – December 5, 2022
Glenn passed away peacefully at home on December 5, 2022, at the age of 59. His heartbroken children, Gavin and Courtney, and wife, Melanie will carry on with the same resilience, fortitude, and gratitude that Glenn has shown over the past 11 years as he faced the impacts of MS on him and his family.
Glenn was raised in Kindersley by his parents Donald and Elizabeth (Betty) Roberts. Glenn's interests in his youth included Monopoly, cards, baseball/slowpitch, music, drama, hunting, lake time, and hanging with friends. He was an avid sports fan and cheered hard for his teams: The Riders, Green Bay Packers and the Montreal Canadiens. Glenn was passionate about volunteering and contributing to community. He was an active member of Ducks Unlimited and Kinsmen in every community he lived. He worked over his life as a lifeguard, electrician, car salesman, ski hill operator, food and milk deliverer, service writer, and relator. Although by far his favourite job was raising his twins and being a dad!
Glenn and Melanie (Close) were married in July 1995. They were blessed with twins, Gavin and Courtney, in February 2002. Family meant everything to him. Many proud moments as a father and much gratitude for all his family sacrificed for him. He wanted his children to enjoy the same summer freedoms as he did as a kid so maximized as much time at the lake as possible. Still today their favourite family place is Turtle Lake.
Glenn was diagnosed with primary progressive MS in the fall of 2011. He lived every day until he passed knowing he would never get better but only progressively fail. He persevered and let his personality guide him – enjoying all personal interactions, staying positive, and laughing every day!
Glenn was a people person and all who knew him enjoyed his storytelling, wit, and sense of humour. He would prefer we are sharing the good times and laughter rather than mourn his passing.
There will be a celebration of Glenn's life on February 18, 2023 at 2:00 pm at the Western Development Museum in North Battleford. If you are unable to attend feel free to share a memory at www.eternalmemoriesfuneral.ca (search for Glenn Roberts).