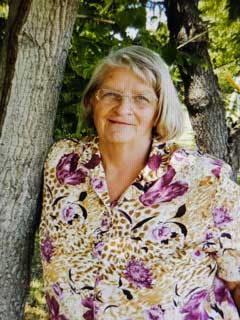 September 12, 1945 – March 13, 2023
The family of Mrs. Grace Strelezki, wife of Paul Strelezki of Dorintosh, SK, formerly of the Usherville District, SK, sadly announce her passing on Monday, March 13, at the Preeceville Long Term Care Centre. She was 77 years of age.
Grace Strelezki was born to John and Rose (Zimmer) Wardle in Preeceville Hospital on September 12, 1945. She grew up in the Lady Lake District with her four siblings and attended the Etoimamie School. She was baptized and confirmed at the Lady Lake Anglican Church. On September 22, 1962, she married Paul Strelezki at the Endeavour Anglican Church. She was a devoted wife and was always with Paul. She worked side-by-side with him in his logging and construction business. She cooked for the crews in the saw mill. In May of 1972, Grace and Paul moved their young family to Dorintosh, SK. This was a temporary move, that became permanent, but Grace and Paul always felt that Usherville was their home. When Grace wasn't helping Paul with the saw mill, she was caring for their six children, maintaining her home, tending to her garden and canning and preserving the produce she had grown. While she lived in Dorintosh, Grace was an active member of the Grace United Church, and the Saskatchewan Wildlife Club in Dorintosh. She enjoyed hunting, fishing, quadding, gardening and always had a house full of children. Her family was her world.
Grace was pre-deceased by her parents: John and Rose Wardle; her in-laws: Pete and Anne Strelezki; grandparents: Alfred and Alice Wardle and John and Emily Zimmer; and an infinite number of sister-in-laws, brother-in-laws, nieces, nephews, uncles, aunts and cousins.
Grace will lovingly be remembered by her husband, Paul Strelezki; daughters: Roseann Strelezki, Lorraine (Chris) Strelezki-Bokota, Amy (Corey) Greene, and Shelly (Gordon) Southward; sons: Mark (Sandra) Strelezki and Rick Strelezki; grandchildren: Brandon Greene, Brittany Mazur, Tyson Strelezki, Paige Ritchie, Madison Strelezki, Caige Southward, Spencer Strelezki, Jaysa Strelezki and Macy Strelezki; great-grandchildren: Scarlett Greene, Jakob Greene, Paul Greene, Lily Mazur and Jakob Strelezki; siblings: Ted (Cindy) Wardle, Barry (Denise) Wardle, Jane Strijak and Bonnie Andrews; aunts: Mary Buckle and May Duke; her large extended family, many nieces, nephews and friends.
Funeral Services were held on Saturday, March 18, 2023, from Trinity United Church in Preeceville with Phyllis Verbeek, Licensed Lay Worship Leader, officiating. The pianist, Leanne Jakubowski, with the Trinity United Church Choir, led the congregation in the singing of the hymns 'Amazing Grace', 'The Old Rugged Cross', and 'In the Garden'. Interment followed in the Saint John's Orthodox Cemetery, north of Endeavour with Ricky Strelezki, Brandon Greene, Madison Strelezki, Spencer Strelezki, Caige Southward and Tyson Strelezki serving as the casket bearers. The procession was led into the cemetery by the cross bearer, Barry Strelezki.
Memorial donations in memory of Grace may be made to Saint John's Orthodox Cemetery as gifts of remembrance. Condolences can be sent to the family from Grace's obituary page at preecevillefuneralhome.com. Arrangements were entrusted to Preeceville Funeral Home.