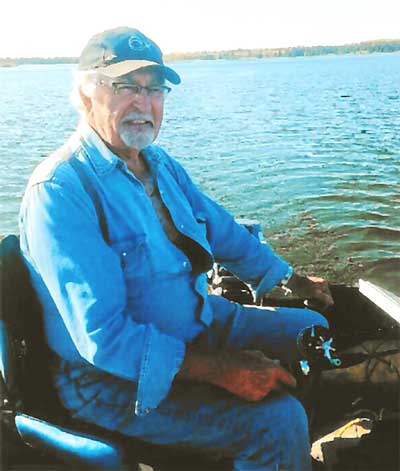 July 29, 1935 – January 25, 2023
Ralph Ernest Weger went be with the love of his life on January 25, 2023 at the age of 87 years old. He died peacefully with his youngest daughter, Kathie, by his side at the Turtleford Hospital after a short illness.
Ralph was born and raised on a southeastern farm fifteen miles from Neudorf, SK, eldest of five children, to Gottlieb and Sophia Weger. He was very active in his younger years playing hockey and fastball along with singing and playing guitar.
Leaving the farm at 16 years of age with a Grade 8 education, Ralph landed his first job clearing bush. In the late 50's Sask Power hired Ralph to be the Assistant District Operator in Estevan, and then Crew Foreman in North Battleford. It was there that he met his beautiful wife, Margaret Yaki, was married on June 28, 1958 and started their family. His job later took him elsewhere in Saskatchewan—to Kindersley, Punnichy, Bruno as District Operator, to Meadow Lake as Assistant District Operator, then back to Punnichy as District Operator. As a sideline, Ralph loved to ump men's fastball games all around southern Saskatchewan.
In 1965 Ralph's dream to become a pilot became a reality, and so Ralph moved his wife and five children back to Meadow Lake for the second time in 1971. In 1970, Ralph had retired from Sask Power to embark on his next adventure as a commercial pilot. He started his own business called Wilderness Wings which later evolved to Meadow Lake Outfitters. Operating five fly-in fishing camps at remote northern lakes attracted many customers from Canada and the U.S. Throughout his life, he owned and operated 33 airplanes.
Not only did he have a passion for flying, he was also a well-known marksman. Hunting big game to gophers kept him busy during his life. Ralph was proud to help out farmers where the gophers had become nuisances. His grandchildren and great grandchildren accompanied him many times and cherish those special times with Grandpa Geedo. His favourite passion though was teaching his children and grandchildren how to play poker!
Hunting and fishing were Ralph's passions. He provided many meals of fresh fish and wild game to all his family during the years and to which carried on when his children were adults and had families of their own. He always enjoyed serving others his secret fish fry recipe up until the time he suffered a stroke the beginning of November last year.
After his fly-in fishing camp business was sold, Ralph provided septic pumping services while living in Dorintosh. His truck with the slogan 'You Dump It, We Pump It' could be seen in the surrounding area for many years. Obtaining his Class A for driving semi was another achievement of his.
After his wife Marg retired from Sask Power, they moved from Dorintosh to Yorkton and enjoyed time with his side of the family. He continued to fly two seater planes and attended many fly-in breakfasts in the area. Twelve years later, family and friends drew them back to Meadow Lake for their final move in 2013.
Ralph was blessed with and leaves behind his five children: Brenda (Larry) Moeller, David (Carolyn), Rebecca (Kerry) Maurer, Kathie (Richard) Sergent and Dean (Sheila); his 15 grandchildren: Lee, Cara (Chris), Jenna (Helder); Dustin (Christina), Jessica (Gilbert); Amy (Eric), Joel, Daniel (Whitney), David (Qafia); Tyson (Richelle), Laura (Tyler), Todd (Stacey); Cody, Kyle and Hunter; and his 21 great grandchildren: Caden, Jordan, Claire, Audrey, James; Ensley, Alyvia, Juliette, Thomas; Corbin, Kadell, Lennyn, Barrik, Chase; Ryker, Arien, Casey, Haley, Trey, Chestyn and Braunn. His surviving siblings are Paul, Marg Kardash and Kathleen Blanchard.
Ralph was a charismatic individual who had many life experiences and was well known for sharing stories and telling jokes to all he had the pleasure of meeting. He will be remembered for his various talents and strengths. RW loved to make people laugh and was fun to be with. His quirky personality and crazy sayings are great memories we have of this great man.
Celebration of Life will be held on April 29th at 2:30 p.m. at the Evangelical Free Church in Meadow Lake.