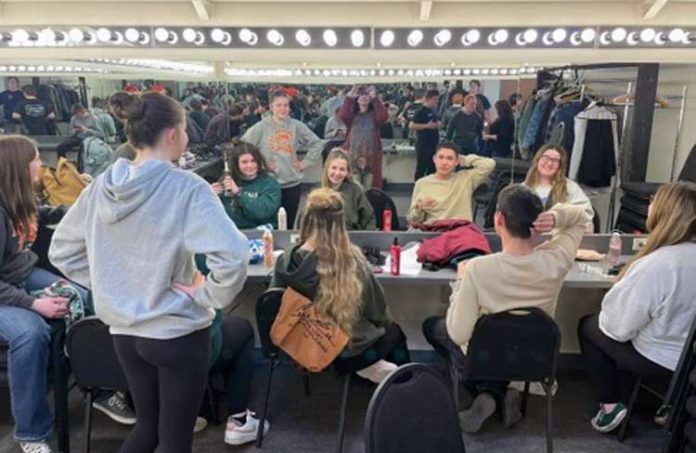 It may not be the Tony Awards, but a number of Carpenter High School students were recently recognized for their work in the world of theatre – both on stage and behind-the-scenes.

More than 20 students representing the CHS drama club travelled to the Dekker Centre in North Battleford March 30 to April 1 for the 2023 Region 8 Drama Festival, an event that proved to be quite fruitful for a number of actors and crew members.

"The first night we got to catch some of the other performances going on during the festival, while some of the kids got to have a blast at the nearby aquatic centre before we got down to business," explained CHS drama teacher Vanessa Skerry. "We performed on the Friday night – the last performance of the day. Beforehand, we had the chance to run through lines and to hold our tech rehearsal at the Dekker Centre, which the kids just adored. Our tech crew and our stage manager were able to get down and gritty with all the bits and pieces required to put on a great show. It was a really good learning experience for them. We rocked our technical rehearsal and, at the end of the night, we performed."

Skerry went on to say the students "knocked it out of the park."

"The adjudicators had a good time watching the kids perform, watching the kids work together as a team as they really brought the show to life," she said.

The students performed 13 Ways to Screw Up Your College Interview, a 35-minute comedy by Ian McWethy.

"The kids really got to bring 13 prospective interviewees to life, and our two interviewers did a really good job on stage as well," Skerry added.

This year also marked CHS' first time at the drama festival since 2018.

"We didn't qualify for provincials, but there will always be more festivals they can go to in the years ahead," Skerry said. "We did very well for our first time, and came out with six merit awards – three for acting and the other three for tech."

Allandrex Crawford won an award for his role as Bret, Olivia Bannister for her role as Lily and Teorie Laliberte for makeup, costumes and for her role as Elizabeth, Ryan Chuckrey for his work on lighting and Pax Ness for stage manager.

"The students also had an opportunity to meet with the adjudicators the following day during our technical workshop," Skerry said. "Each group had a technical workshop following their performance where they received feedback, some tips and tricks on ways they can improve the show, and about things that worked really well… It was a really cool learning experience, the kids got to network, and a lot of positives came out of it. Some of our tech crew, including our stage manager, have discovered they can actually pursue jobs in theatre and use their experience in the drama club as a stepping stone. The students did phenomenal in terms of working together… It was a really positive experience for them because they also had the chance to meet with theatre professionals. They got a glimpse into the professional world of theatre and are very excited for the festivals to come. They did a fantastic job and they should be very proud of themselves."
by Phil Ambroziak