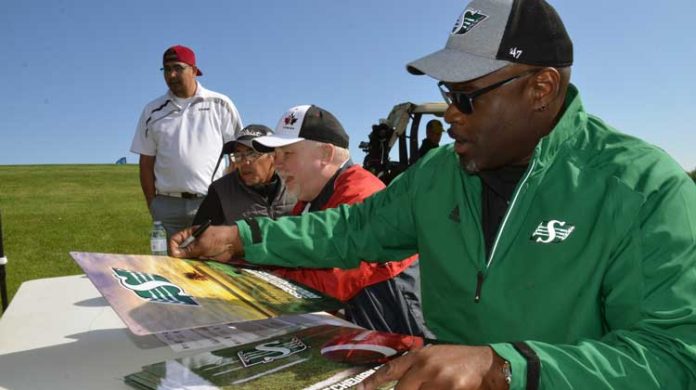 Some Saskatchewan Roughrider greats will go from the gridiron to the golf course this weekend in Meadow Lake.

Former Riders players Andrew Greene, John Walker, Marshall Hamilton and Ventson Donelson are among the celebrity athletes scheduled to be at the Meadow Lake Golf Club this Saturday (May 27) for the annual KidSport charity golf tournament. According to organizer Brian Gislason, the event should be another success for Meadow Lake KidSport and its efforts to ensure all local children have an opportunity to play sports.

"There will be a shotgun start at 10:30 a.m. while a meet and greet – during which the public can receive autographs from our guests – will begin around 9:30 a.m.," Gislason said. "In terms of a financial goal, we're shooting around the $10,000 mark. That's always our goal, while last year we raised a little more than that. If we can raise any amount in and around that ballpark, we'll be pleased. This is our principal fundraiser for sure."

KidSport provides funding to children and families to help cover costs associated with minor sports, whether it be registration fees and/or equipment costs.

"Some families are faced with financial challenges, and it's our goal to make sure this does not prevent children from having a chance to be a part of their favourite sport," Gislason continued. "In fact, this year we have increased the amount each child receives to $750 per year. We used to provide $500, but costs keep going up and we're trying to keep pace with that."

In addition to the former Riders players, also scheduled to be in attendance are Gerry Nelson and Chris Villeneuve, the recent U.S. Open Blind Golf champions who reside right here in Meadow Lake. Gislason said it's always great to see continued support from the athletes who take part.

"This is our 16th annual tournament, and I believe Andrew Greene has been there for at least 14 of them," he noted. "He is definitely one of our largest supporters. He used to work for KidSport, so his heart is really in it. He loves coming to Meadow Lake and he does a great job of gathering Riders to come with him. We are really indebted to him not only for coming himself each year, but also to get his fellow Riders to come here for the day."

When contacted by Northern Pride, Greene said he loves giving back to young people and truly looks forward to the KidSport tournament in Meadow Lake each year.

"I feel it's very important all kids have a chance to participate in sporting activities because there are so many intangibles of life they can learn by being involved in sports," Greene said. "They learn how to work with others, how to win, they learn self-confidence and to set goals. They also learn what to do when they fail, and how to get back up. Like the phrase says, sports are more than just a game."

Greene also said Gislason and the other KidSport volunteers are always wonderful to work with.

"Brian and the others are always so welcoming, as are all the people from the Meadow Lake community," he said. "I love coming up there. It's not often I get to come to Meadow Lake or to that neck of the woods in general, and this gives me a really great reason to come. I look forward to being there again and to helping raise money for the kids of the Meadow Lake community. The volunteers are doing a great job to help the kids in their community, and that is something I appreciate. It's going to be a good time all around."

Up to 36 teams will compete at the tournament.

"Right now we're sitting at around 24 or 25, but we'll be full by the end of the week – 144 golfers," Gislason said. "This tournament is something the community looks forward to and we get a lot of the same people coming back each year. It's great to see so many people come out and support a good cause."
by Phil Ambroziak