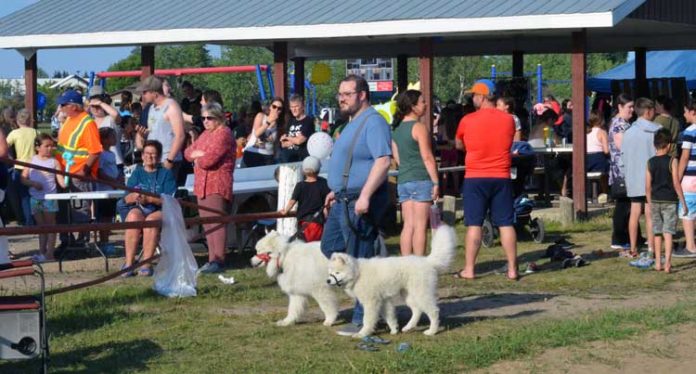 A little love can go a long way.

Just ask the volunteers at the Meadow Lake and District Humane Society who, earlier this week, celebrated 20 years since the organization's inception. The occasion was marked with a special gathering at Lions Park during which shelter volunteers past and present were joined by the community at large for an evening of camaraderie and goodwill.

"Today we've invited the community, all our volunteers, our board members and our supporters out to celebrate 20 years with us," explained Meadow Lake and District Humane Society president Jeff McCallum when interviewed during the event. We're hoping everyone is having a good time. It looks as though everyone is really enjoying the evening – we couldn't ask for a better day. It's great to see everyone celebrating what the organization has accomplished these past 20 years."

In addition to a barbecue, the event – held Monday (May 29) – also featured a bouncy castle for the kids, a raffle, 50/50 draw, face painting, as well as appearances by some of the animals available for adoption at the shelter.

"Some of our alumni are walking throughout the crowd with their adopted families, which is also good to see," McCallum added.

During the celebration, McCallum also acknowledged former and current volunteers and board members, expressing his gratitude for their contributions over the years.

"It means the world to me because this community, this region has kept our shelter going," he said. "We have partners all across the prairies, all over this country, we adopt animals from all over and the support the local region is showing us tonight means everything because they've kept us going for 20 years and we've kept the animal rescue and re-homing situation under control for 20 years as well, and, hopefully, for many more years to come."

As McCallum stated, a number of community partners have also provided support to the shelter throughout the past two decades.

"It's the vet care we get, the transporters, administration behind the scenes, board members who have their own, individual strengths to bring to the table," he said. "It's the entire community, including our families and our friends who have always looked after this place."

McCallum began volunteering at the Meadow Lake and District Humane Society in 2006. He has served as president since 2019.

"The shelter has really carried itself forward, it's been healthy, it's been supportive and it's been one of the best non-profit groups this whole region can boast about," McCallum said.

As for why McCallum has stuck with the shelter for as long as he has, the answer, he said, is simple.

"It's the animals," he stated. "We're in it for the animals. We rescue, we save, we look after, we take care of their needs, we nurture them. We take them on their worst day and we carry them forward to their best day when they're part of a family again. You can't ask for anything more rewarding than that."

Anyone interested in volunteering at the Meadow Lake and District Humane Society is encouraged to reach out to the organization through Facebook, via email at mldhs@sasktel.net or visit a board meeting.

"Get a hold of one of the current volunteers," McCallum added. "If you see someone parked at our shelter building on Commercial Crescent, stop and ask what it's about… We need help in every, way, shape and form of that word. If you want to be part of it, reach out to us."
by Phil Ambroziak