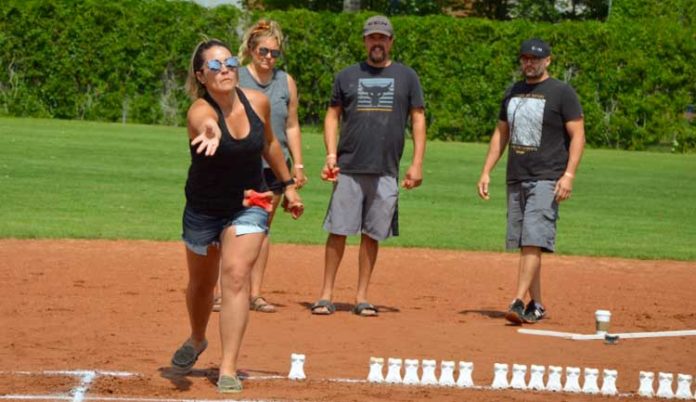 Make no bones about it, the first-ever bunnock tournament scheduled for Meadow Lake this Saturday (June 3) at Lions Park should be a recipe for excitement and fun.

This is according to Lloyd Elash of the Meadow Lake Lions Club, the group hosting the tournament which is expected to become a new annual fundraiser for the organization.

"We've never done anything like this before, so this will be a real learning process for all of us," Elash explained. "As everyone knows, we lost our ability to host bingos originally because of COVID-19 and then because the Meadow Lake and District Arena (where the bingos were traditionally held) was lost to fire. Our major fundraisers – three big bingos per year – have been on hold. So, we decided to try something different. The idea of a bunnock tournament was mentioned to me by someone outside the club, I took it to a club meeting and everyone seemed quite enthused about it. Things just went from there."

Bunnock (also knows as the game of bones or simply bones) is a throwing game thought to have Russian origins. The aim of bunnock is to throw bones at an opposing team's rows of bones, trying to do so in the fewest throws possible. The team that knocks down all of the opposition's bones first is declared the winner. The game is played in teams of four and must contain at least one member of the opposite sex. People of all ages are allowed to participate. Historically, the game was played by using the ankle bones of horses. These days, however, modern sets use a resin, replica bones.

"While this tournament will be the first of its kind in Meadow Lake, bunnock is quite popular in other parts of the province," Elash said. "Macklin, SK considers itself the bunnock capital of the world. There's also an International Bunnock Association based out of Edmonton. We are following their rules and regulations. We also have several people on our committee – while not Lions members – who have participated in similar tournaments before. There will be experienced players from outside the club in attendance that day."

Elash also said he is excited for what promises to be an interesting day.

"We've got some really great prizes, there's cash for the winners and likely a prize package for each participant," he said.

The event will also include a beer garden, food booths, a merchandise raffle, a 50/50 draw and a street market.

"It will be quite the day," Elash added.

As noted, he also foresees the bunnock tournament becoming an annual fundraiser for the Lions Club.

"That's the direction we're going – yes," he said.

A total of 32 teams are expected to take part Saturday. Registration will take place from 8-9:15 a.m. with the first round-robin games beginning at 9:30 a.m.

"There will be people taking part both locally and from out of town, while the tournament will go ahead rain or shine," Elash said. "I should also plug the City of Meadow Lake, RM of Meadow Lake and Sask. Lotteries for the grants they gave us to help us get started."

Funds raised from the tournament will go toward various Lions Club initiatives going forward.

"We know one thing the city will need fundraising for is a new arena, but we haven't made any official commitments toward that as of yet," Elash noted. "However, we have supported all major recreation areas in the city in the past. I also want to acknowledge all the merchants who provided gifts and prizes for the tournament."
by Phil Ambroziak