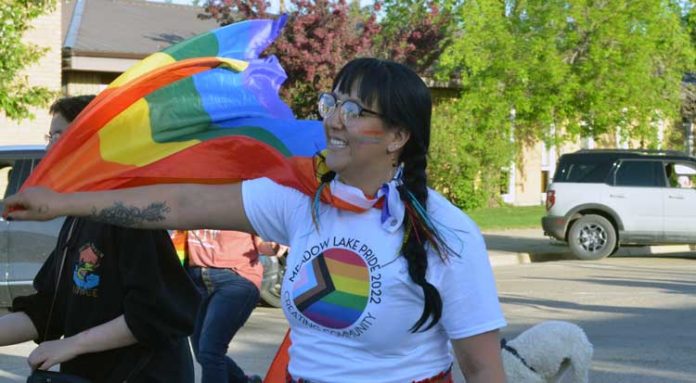 The City of Meadow Lake is once again ready to show its pride.

While mayor Merlin Seymour recently proclaimed June as Pride Month in the City of Meadow Lake, the celebration of the local 2SLGBTQ+ community goes beyond that with a number of events and activities planned throughout the entire month.

"We have a full month of events happening once again," remarked Jo Metz, a member of the Meadow Lake Pride committee.

The first official event was the annual flag-raising ceremony, held today (June 1) at Transition Place Education Centre (TPEC). According to Metz, logistically the move to TPEC from the traditional site at city hall made more sense.

"City hall will also have a flag up for the month, but there will be no event," Metz said. "There were some issue with getting the street blocked off by city hall at 12 noon because it's quite a busy time for that intersection. There's a flag pole at TPEC and the street is less busy at that time of day."

Meanwhile, other events throughout the month include a dog park social June 2, plant pot painting June 3, the Stampede Parade June 5, a poetry workshop June 6 and crosswalk painting June 7.

"We'll be painting the crosswalk in front of the library this year," Metz added.

The month carries on with Cozy Mic Night June 8, library storytime June 10, a hike at St. Cyr June 11, a trivia night June 14, crossfit June 15 and a wing night fundraiser for the Pride committee will take place at Royal Canadian Legion Branch 76 June 16. June 17 is the date for the Saskatoon Pride Parade a ribbon skirt class is scheduled for June 18, a paint night is planned for June 20 and the main event – 'Welcome to the Gaybourhood' – is set for June 24.

"That will take place at Lions Park and, similar to last year, will feature vendors, there will be food trucks, games, a slip and slide, and more," Metz said. "That evening, we have two drag shows happening at the Legion. The first one is an all ages show at 5:30 p.m. while the 9 p.m. show will be a 19-plus event."

According to Seymour, the City of Meadow Lake is a welcoming community that values diversity and inclusion.

"The city is also home to many 2SLGBTQ+ residents who are vital members to our community," he noted. "Pride Month provides an opportunity to reflect on the progress that has been made to recognize the rights of 2SLGBTQ+ people are able to live their lives free from discrimination, harassment and violence."

Throughout the month, the city is encouraging citizens to celebrate the culture, accomplishments and contributions of the 2SLGBTQ+ community and to help advance the course of equality for the 2SLGBTQ+ community and their families.

"This is our fourth year of visibility in the community with the flag raising ceremony the first two years and, last year, holding multiple events throughout the month," Metz noted. "It's important for people in the community who either identify with or are allies to the LGBTQ community to feel safe, welcomed and they have a place here. Not all places in the world are welcoming, and we want them to know Meadow Lake is welcoming and we're here for them."

For more information, the Meadow Lake Pride committee can be found on social media via Facebook, Instagram and TikTok. Questions can also be asked via email at meadowlakepride@gmail.com.
by Phil Ambroziak