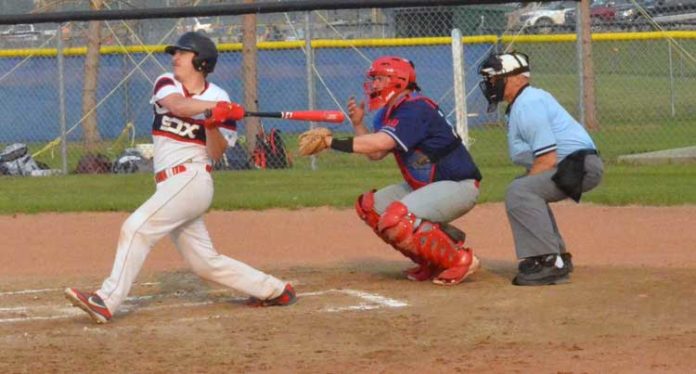 The Meadow Lake Senior Sox continue to knock them out of the park.

As of this week's sports deadline, the Sox remain undefeated in North Saskatchewan River Baseball League (NSRBL) action, winning twice on the road this past weekend and again at Assman Field in Lions Park Tuesday evening (June 13).

"We played twice Sunday (June 11)," noted veteran Sox player and team manager Craig Weran. "We were in Lloydminster to face the Twins Sunday afternoon where we won 7-5. Quincy Winkler started on the mound and pitched really well. Dylan Esau came in to finish the game and they both pitched extremely well that day… it was a good close game. We saw two good pitchers on their part as well, but we had really good defence and scored enough runs to win. It was a nice, all-around game for us."

That evening, the Sox travelled to Unity to face the Cardinals.

"Brett Esau pitched a complete game in that one," Weran continued. "We were down 6-3 after the fifth inning, but scored 12 runs in the last two innings. We won 15-6. Brett had two long home runs and pitched a really nice game, while we got some great offensive contributions from Dylan Esau, Matt Bourassa and Nathan Dancy. We just hit the crap out of the ball in those last two innings and blew the game open."

This brought the Sox back to Meadow Lake where, Tuesday evening, they squared off against the Standard Hill Lakers.

"We were both undefeated at 5-0 going into that game," Weran said. "They were missing some guys, however. Dylan Esau threw for us and, again, was excellent as he often is. He gave up nothing in the first four innings or so. Their pitcher struggled to throw strikes, while we scored a boatload of runs. We were up 13-0 after the third inning."

The Sox then made a pitching change because Weran wanted to have Esau ready to go for tonight's (June 15) game in North Battleford.

"They clawed their way back in by scoring six runs, but we then made another pitching change, scored more runs, they walked a ton of guys and we had a bunch of base hits to end up winning 19-9 in six innings," Weran explained. "Offensively we had contributions from Matt Bourassa and Nathan Dancy, as well as Reid Beck who also pitched his first game as a member of the senior team. He came in and pitched the last inning. He's only 15 years old, but he's really good."

A highlight for long-time Sox fans who attended Tuesday's game was the presence of former Sox catcher Sam Dawson who now fills that role as a member of the Standard Hill roster.

"This wasn't the first time, as Sam has been in Maidstone now for a few years," Weran said. "We've crossed paths with him a few times over the last couple years, but it was good to see Sam again."

As noted, the Sox are in North Battleford tonight to face the Beavers.

"We played them in our first game of the year and beat them 6-0, but they didn't come to Meadow Lake with all their players," Weran said. "Teams generally have trouble getting all their guys to the road games, so they tend to field better lineups for home games. I believe we will see a better team Thursday than we saw in that first game of the year. They are a good team regardless, but they will be a better team this time out."

The Sox will play at home again June 26 against the Mervin Flyers and June 29 against the Glaslyn Orioles.
by Phil Ambroziak