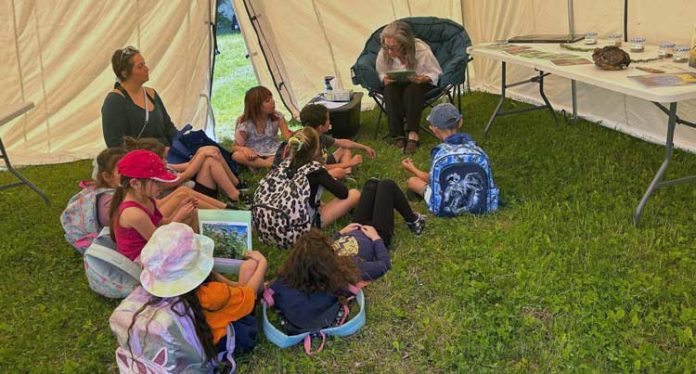 Askî – kihtêyosînô – pî kiskwêwin or, translated to English, land – elders – language.

These were the lessons shared with students from Meadow Lake and Flying Dust First Nation last week when they attended a two-day event hosted by the Métis Nation-Saskatchewan Meadow Lake Local 31 and the Northwest School Division designed to promote early learning. The event took place June 7 and 8 at Bear Creek Hall just north of Meadow Lake.

"Our whole idea in terms of bringing this to life was centred around how we could infuse and teach the Métis culture to our early years students in Meadow Lake," explained Dane Kopperud, the NWSD's Indigenous learning coach. "On the first day, we invited pre-Kindergarten to Grade 2 students and had 350 or more kids take part. On the second day, Grades 3 and 4 students attended from Lakeview Elementary, Jubilee Elementary and Kopahawakenum School, and we had about 250 students that day."

Activities and themes throughout the two days included but were not limited to beading, moccasin making, a trapper's station, a food station, bannock on a stick, Métis singing, fiddle playing and jigging, and lessons and storytelling from elders such as Rose Richardson, Guy Tourond and Edna Vandale.

"It was really heartwarming to see the students so engaged in both the learning and the language, " Kopperud continued. "We had posters up with languages the students could use at each station. Just seeing how proud they were to use those words, and there was no fear or lack of confidence when they were sharing. They were so proud of who they are and proud to use the language. That made my heart very happy to see."

According to Loretta King, MN-S Western Region 1 director, events such as the one held last week are key in terms of promoting Métis culture, language and tradition within, as well as beyond, Métis society.

"It was really important the kids were happy and engaged when they were learning, and it wasn't just teachings of our culture to Métis-specific students, but to everybody," King said.

The Métis learning event at Bear Creek was the first of its kind and made possible through the MN-S' community enhancement grant.

"We jumped on the opportunity, had big dreams and a really small team, but we put it into action," Kopperud said. "We're very grateful to the Métis Nation-Saskatchewan for allowing us to do this."

Kopperud also said it would be nice to be able to make the event an annual one.

"We would love to do it again, and, the invitations we created, well, teachers can access those resources as well," she said.
In closing, Kopperud said the event was a great opportunity for the various schools to participate in.

"We have a really high number of Indigenous students in Meadow Lake and, as a former Meadow Lake student, this is something I wish I was able to have when I went to school – to learn about my identity and brought that forward through learning," she said. "That experience of being on the land, having our elders present and learning the language is amazing."
by Phil Ambroziak