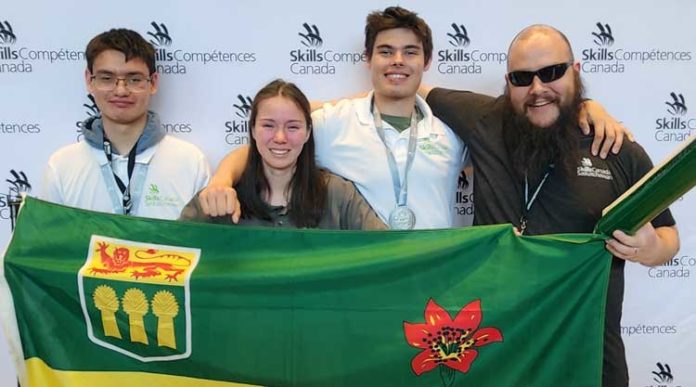 Students from northern Saskatchewan recently took their talents – and their love – for robotics to the national stage.

The robotics team from Rossignol High School in Ile-a-la Crosse was in Winnipeg May 26-28 for the 2023 Skills Canada National Competition, an event that eventually saw the duo of Ethan McKenzie and Braidy Gardiner finish second overall in the entire country.
"They earned the silver medal nationally," remarked Rossignol High teacher and robotics coach Dave Dalton. "The category was mobile robotics while the competition this year was to build robots that could play a game of hockey. There were teams from all over the country. Each team developed robots throughout the year and advanced through their respective regional and provincial skills competitions to nationals, but, in the end, it really came down to as simply as it sounds – playing a game of hockey."

The competition featured opposing robots on a court with the objective being to score on the opposing team's net.

"It started with a round-robin – every team played one another before going into a seeded, double elimination tournament," Dalton continued. "The winner of that tournament was named the overall winner. We finished first in the round-robin, which gave us a nice spot in the seeded tournament where we were able to win our way right to the championship game. We faced a team from Toronto in the final, and they managed to beat us by one point."

In spite of the loss, Dalton said he is extremely proud of the Rossignol team and the effort they put in to get as far as they did.

"I'm always proud of these kids no matter how well we do, but to make it out of Saskatchewan, to win provincials here and to qualify for nationals was just amazing. Then, once there, to do as well as we did was absolutely incredible."

Locally, the regional skills competition was held in Meadow Lake in March, while the provincial competition took place in late April in Saskatoon.

"We went undefeated at the provincial competition," Dalton said. "But, there was a time there where we were unsure if we would even be able to get to Winnipeg because of the wildfire situation in our area."

Dalton went on to say it was the week before the team was slated to go to Winnipeg when an evacuation order was given for Ile-a-la Crosse.

"We had to pack everything up as quickly as we could and make arrangements to meet in Saskatoon and prepare everything there," he added. "We were fortunate we were able to work everything out and make it to Winnipeg in time. We had all our robots and our gear, so we were lucky."

Dalton has been teaching robotics at Rossignol High for 12 years.

"Robotics is so important for a number of different reasons," he said. "Firstly, it's the changing landscape of today's world. We're moving toward more automated things more coding-based things, more robotic-based things, so it's a great skill to have in order to really compete in the world and keep up with the changing world. You also have to take into account one of the real key aspects with robotics and that's critical thinking and problem solving. The robots we build are fully customized. We start them with a picture and then make them happen. We build them, design them, test them out and we have to adapt. We have to solve our problems and think of how we can do things better. The real strength, however, is it's much more about building a sense of well-being and a sense of belonging in our kids."

Dalton said, coming off COVID-19, there have been many struggles in his community in terms of mental health.

"Providing a place where kids can come, have some fun, feel like they belong and gain that sense of well-being, that's huge," he said. "That can be done with any program. It doesn't have to be robotics. I just happen to like robotics."

Meanwhile, a third team member, Haley Burnouf, did not compete at nationals because of rules that stipulate two members only. She, however, did attend the event as a youth ambassador for Saskatchewan.

"I'm super proud of these kids," Dalton said "They really represented us well, they made me really proud of our program here and made our entire school, community and all of Saskatchewan equally as proud."
by Phil Ambroziak