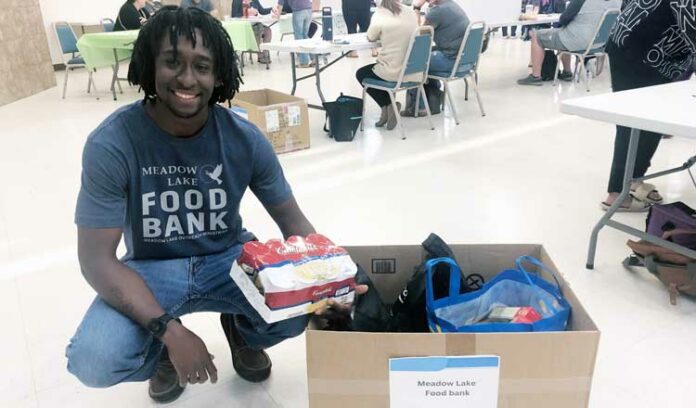 When it comes to support for the food bank in Meadow Lake, the key to success is consistency.

This is the opinion of Delton Sylvain, executive director at the Door of Hope, who said, as of late, support for the food bank has been dwindling and so too has the amount of food currently on the shelves.

"We are the only food bank in Meadow Lake and we're serving the most needy people in our community – and not just this community, but people from Waterhen, Green Lake and all around," Sylvain said. "Just seeing the lack of consistent support we have from some of the authority in Meadow Lake is very sad to me."

Since taking on the role of executive director in August, Sylvain said he's reached out to Desnethé-Missinippi-Churchill River MP Gary Vidal, Meadow Lake MLA Jeremy Harrison and Flying Dust First Nation, providing each with a proposal that could help address the situation.

"I have to say thank you to the Meadow Lake Co-op and No Frills for always helping us out (by providing reclaim items), but the amount of people who need food is a lot," Sylvain said. "We serve food hampers on Mondays, Wednesdays and Fridays, and our caseload on each of those days include between 55 and 60 families. We are struggling with having enough food at the food bank, and we also struggle with space. I don't understand why the MP, the MLA or the even the city haven't come up with a strategy space-wise for the food bank."

Sylvain did note, however, Flying Dust did have a representative meet with him to discuss the proposal.

"My proposal is to have consistent, monthly help for the food bank," he said. "I'm willing to hold myself accountable in terms of providing receipts, taking photos and doing whatever else we need to to show how such support is being utilized."

In general, the Door of Hope/food bank accepts all types of food, as much of it is also used to prepare meals at the Door of Hope's soup kitchen.

"For the food hampers, we need non-perishable items, any sort of canned items, flour, cereal, baby food, you name it," Sylvain said.

Meanwhile, a food drive was organized for last Wednesday (Sept. 13) as part of the Community Registration Night held at the Meadow Lake Civic Centre.

"We are a community and, even if someone is not in the same situation as some of our clients, their troubles impact the entire community," Sylvain said. "When people don't have enough, crime goes up because people will do whatever it takes to provide for their families, but we can work together to help these people who need support."

Sylvain also said there is a program in place at the Door of Hope that allows people to donate a minimum of $5 per month. All that's required is to complete a form he has available the Door of Hope.

"There's more than one way to support the food bank," he said. "I just want something consistent because this is an ongoing problem. Fundraisers are one thing, but they're not ongoing. Our numbers are consistently going up, so we need something that will guarantee food security for our people."
by Phil Ambroziak