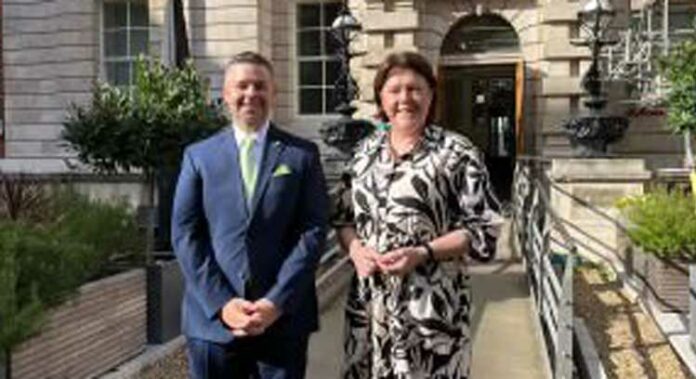 Meadow Lake MLA Jeremy Harrison continues to do his part to help strengthen ties between Saskatchewan and its friends overseas.

Last week, Harrison – who serves as provincial minister of immigration, career training and trade and export development – led a delegation to the United Kingdom and Poland. The mission's focus is on expanding opportunities in agriculture, critical minerals, innovative technology, immigration and talent attraction.
"Saskatchewan is a world leader when it comes to agriculture, technology, energy and critical minerals," Harrison noted. "With more than one in six jobs in the province tied directly to international exports, the province is committed to supporting a strong and growing economy by focusing on increasing trade and investment opportunities. Continuing to develop our economic interests while strengthening existing partnerships and relationships is creating growth that works for everyone at home."

The U.K. stop included an event with the Critical Minerals Association, which showcased Saskatchewan's capabilities in critical minerals, with a particular focus on Saskatchewan Research Council's (SRC) experience in rare earths processing.

"Saskatchewan Research Council is currently developing North America's first fully integrated rare earth element processing facility that will support Saskatchewan's bid to become a leading-edge rare earth element hub," SRC president and CEO Mike Crabtree said. "As the world looks to secure access to critical minerals essential for telecommunications, computing and clean energy, Saskatchewan is well-positioned to meet these demands. This mission is critical to finding the necessary global collaborators to move this key strategic priority forward."

Harrison's time in the U.K. also saw him speak at the Canadian High Commission to the United Kingdom during its Connecting Global Founder and Investors conference.

"The event was designed to connect Saskatchewan companies to European Investors in the ag tech industry," Harrison told Northern Pride. "To date, the partnership has created nearly 200 jobs in Saskatchewan and resulted in more than $80 million of capital investment for Saskatchewan ag tech companies."

Harrison also met with British MP Maria Miller who serves as the U.K. trade envoy with Canada.

"We discussed detailed topics related to trade opportunities and policy between the U.K. and Saskatchewan," Harrison explained. "I invited her to visit Saskatchewan next month and she will be coming. Canada and the U.K. are in the midst of a free trade agreement negotiation."

A number of Saskatchewan businesses also attended the World Agri-Tech Innovation Summit and join Cultivator and Innovate U.K. at an investor start-ups session.

The next leg of the journey – which began Sept. 23 and wraps up Sept. 30 – saw Harrison and the Saskatchewan delegation head to Poland.

"Ralph Goodale, a former colleague from the House of Commons and the Canadian high commissioner to the United Kingdom – along with a delegation of 17 Saskatchewan companies – will be going to Poland to recruit skilled workers from the Polish community and also the Ukrainian refugee community who have fled the Russian invasion and are now in Poland," Harrison said.

A delegation of Saskatchewan employers and the Saskatchewan Immigrant Nominee Program (SINP) will attend a recruitment fair to attract skilled workers for in-demand positions in the province. This will allow the province to provide coordinated settlement services, such as foreign qualification recognition pathways. It will also enhance settlement and retention outcomes by providing personalized, proactive supports to prospective newcomers. 

Through the network of nine international offices and several missions abroad, Saskatchewan is strengthening relationships around the world. Saskatchewan's merchandise exports to the Europen Union and U.K. increased by 50 per cent from $1.8 billion in 2021 to $2.7 billion in 2022. Last year, the top three export products to the EU were potash ($760.4 million), wheat ($587.5 million), and uranium ($409.2 million).
by Phil Ambroziak