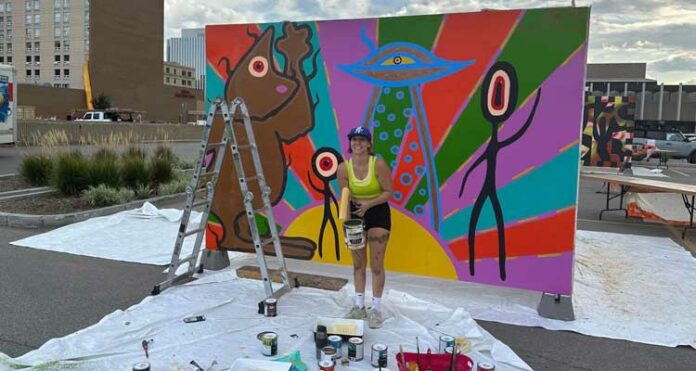 Former Meadow Lake resident Dakota Ray Hebert, a member of English River First Nation, may be known for her career as an actress and comedian, but she's also making a name for herself in the world of visual art.

Hebert, who now resides in Saskatoon, recently completed her first mural – a large piece inspired by the work of Indigenous artist Norval Morrisseau, 1950s atomic art styles and 1960s psychedelia. The piece is currently on display at the Midtown shopping mall in Saskatoon.

"I received an email one day from organizer, Pam Staples (of the Urban Canvas Street Party), asking if I would be interested in painting a mural," Hebert explained. "Of course, being a big fan of writing cheques I'm not sure if I can cash, I said 'of course, I would love to do a mural'. I said yes, submitted a concept – which at first was much more intricate for what the timeline was – I revamped it and it turned out to what you see now."

The mural depicts elements often found in Hebert's art, characters such as the Sasquatch, her alien beings named Monte and Mortimer with a UFO ready to beam up unsuspecting space travellers.

"I was provided with some money for supplies, started gathering these and, come the night before, it was sheer panic," Hebert said. "I knew there would be people watching, but everything went off relatively without a hitch. I arrived with all my stuff in a wagon, looking like the artsiest 12-year-old possible. But, when I got there, I looked around at the eight-foot-by-12-foot panels and I realized I forgot a ladder. I had to call my sweetheart (husband Dylan Jay Williamson) to bring me a ladder and some other supplies, and I needed his help too. I swear murals need to be at least a two-person job, but I started painting and finished it up by the next day."

The project was completed Sept. 8 and 9 at the Midtown shopping mall parking lot, with – as noted – all the murals painted that day being showcased at the mall until they are auctioned off.

"Who knows where it will eventually end up," Hebert said of her work.

The Urban Canvas Street Party is described as a vibrant celebration of artistic expression, urban creativity, and cultural diversity. Taking place in Saskatoon's proposed downtown event and entertainment district, the festival brought together local artists, DJs, cultural partners and community to celebrate the city's thriving art scene. A celebration of urban living, the street party featured music, murals, art battles, engaging community graffiti projects, a pop-up skatepark, food trucks and more.

"This was the first time something like this has been held in Saskatoon," Hebert said. "It was really awesome. It was so fun."

Hebert has always had a love for painting, but never expected her work to become as popular as it has, especially in such a quick fashion.

"It's been exploding in a huge way and in a completely unexpected way," she said. "My smaller pieces are currently on display at The Drop Spot Studio in Saskatoon, while my larger pieces are posted at Wanuskewin Art Gallery on Broadway (in Saskatoon). I also just worked out a deal with a gallery in Ontario, so it feels pretty surreal… I've aways liked the idea of being a painter, but I never fancied myself as a painter. I started two or three years ago just trying things out, which is really all art is – trying. I was painting what I envisioned in my head because I didn't have the money to pay someone to do it."

Hebert also said the key to success is never giving up.

"I have a great manager who helps me figure out my scheduling, so, if I get my (comedy) writing done in the morning, I will reward myself by working on a painting," Hebert said. "It's really fun… It helps calm me down. If there is any kind of art form a person is interested in, I recommend giving it a try. You may not be the best at it, but you're only going to get better if you do it and if you stick with it."
by Phil Ambroziak