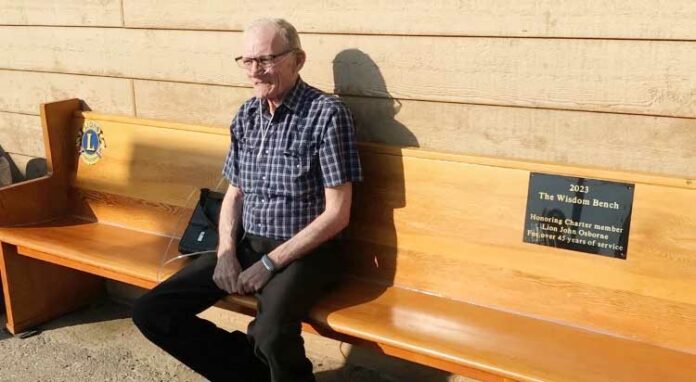 A staple of the Dorintosh community was given a special tribute this past weekend, something members of the local Lions Club and the village as a whole believe is more that well-deserved.

The Dorintosh Lions Club recently installed a new bench – described by members as the 'Wisdom Bench' – outside the Sikup General Store Saturday (Sept. 16). The bench not only replaces the previous seating area, but was also installed to honour John Osborne, the store's long-time owner who took over the business in 1980. The store remains in the Osborne family to this day.

"It's called the Wisdom Bench," explained Dorintosh Lions Club member Roger Zuchotzki. "There's long been a bench on the east side of the store where people can sit down, discuss all the facets of life, the world problems and things like that. I thought it would be nice if we could turn around and update the bench, and also kill two birds with one stone by commemorating John Osborne who started Sikup store with his family."

Zuchotzki presented the idea at a Dorintosh Lions Club meeting and took it upon himself to track down the perfect bench to install outside the store.

"I've always been a sort of guru when it comes to finding old church pews and finding another use for them," he said. "A lot of churches are being burned down, closed or destroyed, and I found a lot of benches out in Ontario and Quebec, but none close to home. Eventually, lo and behold, this past spring, I found a church in Lloydminster that was selling some of its pews. We came to an agreement on a price and, one day, I borrowed my son's truck and trailer, my granddaughter and my wife, we drove down, took a look at them and brought three of them home."

The benches each measure 15 feet in length.

"I took the best of the three, hired a carpenter and we cut some slots into the seat because, instead of being inside, this bench is going to be left outside and needed a way for water and snow to drain off," Zuchotzki said. "I also sanded the bench to get rid of the interior varnish. I then applied an exterior finish."

A plaque was also placed on the bench in commemoration of Osborne and his contributions to the Lions Club. Lions Club logos were also placed on each corner of the bench.

"Kelly Graphics in Meadow Lake made these placards for us, and we're very appreciative because they didn't charge the Lions Club a fee," Zuchotzki added.

Zuchotzki also said the timing for the bench's installation was perfect because Osborne, who now resides in an enriched living home in Edam, SK, was coming home for a family gathering this past weekend.

"I asked his son, Greg, when his dad would be coming home," Zuchotzki said. "He arrived Sept. 15, I met up with him and told him he needed to be at the store at 10 a.m. the next day. We took the old bench away, set up the new one and there were a few customers who wanted to sit on it right away, but I told them they couldn't until John Osborne had a chance to sit on it first. A few minutes later, John arrived, the Lions members were there, John sat down and he was quite elated about it."

As for the other two benches, Zuchotzki cut them in half, built a new armrest and leg for each piece and one now sits on his front deck. He sold another half, and has two more halves he will also eventually be selling.

"They look pretty neat," he said. "They make a nice furniture piece on a deck and they're very comfortable. It's also great to be able to find new life for these old church benches."
by Phil Ambroziak