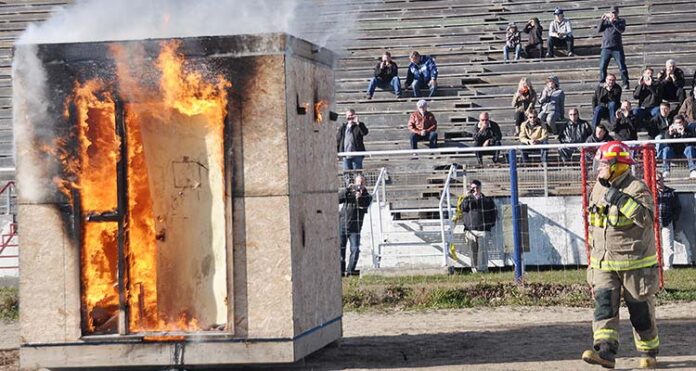 You can learn a lot from your peers.
That's what close to 60 building officials from around the province can attest to after attending the Saskatchewan Building Officials Association (SBOA) 2015 fall conference Oct. 21-23 in Meadow Lake.
"The SBOA is the regulatory board for building inspectors throughout the province and, twice a year, they hold a conference to get as many of us together as possible for training, continuing education and to ensure we're keeping up with any changes to codes or standards when it comes to building practices or building materials," explained Neil Marsh, Meadow Lake fire chief and the city's building official.
Along with various presentations and other learning opportunities held at the Meadow Lake Civic Centre, participants had an opportunity to tour both Meadow Lake OSB and NorSask Forest Products.
"Many of the people who came from the southern part of the province never had the opportunity to see an actual mill operation before," Marsh said. "Building inspectors deal with the materials these mills produce all the time, so it's good to have a little more knowledge about where the materials come from."
Another highlight for many on hand Friday morning was a burn demonstration courtesy of Meadow Lake Properties and Meadow Lake Fire and Rescue. Following a presentation about the company Uponor's 13D residential sprinkler systems – a fire prevention method adopted by local developer Al MacFarlane – the conference shifted to the nearby Stampede Grounds for a live fire demonstration.
"Sprinkler systems for houses is kind of a new thing and still isn't widely understood," Marsh said. "But, because technology has developed to the point where these systems are more affordable, they've become very effective."
Firefighters ignited a small, temporary structure equipped with a sprinkler system, which proved to be anti-climatic when the system quickly activated and put out the fire almost immediately. A second structure, however, was not equipped with sprinklers and was fully engulfed within minutes.
"The most important thing to remember is, if someone had been in the building with the sprinkler system, they wouldn't have died," Marsh noted. "In the other building, a person's chance for survival would be slim and there would be massive property damage."
Although Marsh was busy throughout the duration of the conference playing host and organizing the various events, he did have time to take in a few sessions for himself. Among some of the most informative, he said, were a presentation by Al Balisky of NorSask about forestry and Mistik Management general manager Roger Nesdoly's talk regarding basic soil science.
"Both were very interesting," he said.
Last week's conference was the first time Meadow Lake has hosted the SBOA. Marsh said it took a couple of years for it to happen, adding it was finally able to take place locally thanks to a lot of support from the community.
"I would think so," he added when asked if the community will host such an event again in the future. "I've heard nothing but good comments about it."