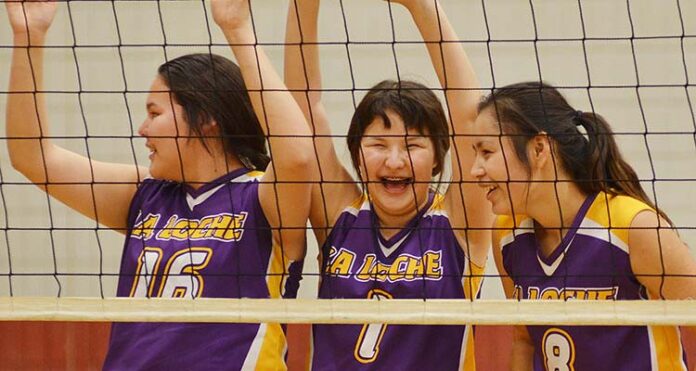 by Terry Villeneuve
It was the tournament of tournaments last weekend when Jonas Samson Junior High in Meadow Lake hosted their biggest volleyball tournament ever. There were 16 boys teams competing, 16 girls teams and 120 total matches played on six different courts.
"This was big – we used three gyms – Jonas, Gateway and Carpenter," said JSJH boys coach Trent Marsh. "The tournament had two rounds of play and then playoffs."
In their early rounds, the Jonas 'A' boys won six straight sets over Goodsoil, John Paul II from North Battleford and Lloydminster's College Park. Ranked first in their pool, they were then re-pooled with others with similar records.
"We ended up winning two straight against E.S. Laird from Lloydminster and then split with Melfort and Prince Albert's St. Mary," noted Marsh. "We were ranked second in this pool and advanced to the championship quarterfinal."
The team then downed Lloydminster's Holy Rosary in two sets before meeting La Loche in the semifinal.
"We lost the first set 25-21 and the second one as well 25-17," Marsh added. "That was it for the tournament and La Loche ended up winning the boys side. Overall we played well, but there needs to be a few adjustments before this weekend's district championships."
The JSJH 'B' team also competed with two teams.
"They did very well," noted coach Debbie Robertson. "Even though the one team lost out in the consolation side semifinal, it was a good tournament for them as they have developed so much this year and many of them will move up to the 'A' squad next year."
On the girls side of the draw, the championship was won by NBCHS from North Battleford.
The JSJH girls 'B' team played a total of eight games and were crowned the consolation side winners in the end.
"We beat Maidstone in three sets, with the final being a close 15-13 score for us," said Melanie Kaiser, who co-coaches the team with Chris Ellis. "It was the best they've played all season."
Ellis noted it was the squad's first upset over Maidstone this year as Maidstone had beaten them twice already during the season.
"It was a good way to round out the season," said Ellis. "We have one more tournament this coming weekend in Vermilion."