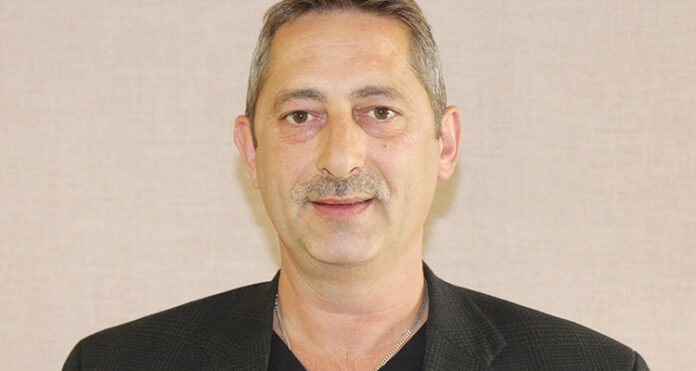 Al Maier has built a career teaching in the Northwest. After stints at several area schools, he settled in Rapid View where he has been the principal for more than a decade. Recently, Northern Pride spoke with Al about his career, his family and the current school review.
Q: How long have you been the principal of Green Acre School?
A: About 14 years. This has been the best teaching job I've ever had. I love it at this small school. I still teach about 85 per cent of the time with the other 15 per cent going toward administrative duties. It can get a little busy sometimes, but I'm a teacher first and principal second for the most part. With the good team of staff we have and the great students, it works. I don't have to discipline much.
Q: What's it like balancing the roles?
A: It can be tough and, at certain times of year, there are more administrative duties to be done. The balancing act is tricky because I want to be the best teacher I can be, but the administrative stuff takes up so much time. I go through every year feeling kind of guilty I'm not doing good enough in one or the other. But, I do my best and the most important part is the teaching.
Q: When is there a lot of administrative work?
A: In the beginning of the year, there's a lot to be done. Then, there's a school community council and administration meeting every month which takes up extra time. Also, planning for subs also adds to the job.
Q: Tell me about Green Acre School.
A: There are 44 students between Kindergarten and Grade 8. All our classrooms are split here and we have 4.5 teachers. We share the load. When teachers come into the school they know how it's set up, but it's a bit of an adjustment for new teachers. But, the staff we have here now is good at adjusting to that type of work.
Q: What makes the school special?
A: It's like a little family. Everyone knows each other quite well and we have the best playground in the whole school division – it's huge. There's the bush kids can play in and we have super community support. The school is the centre of the community, so it's very important to those who live in and around Rapid View. When we have functions, it's almost a 100 per cent turnout. Just that family atmosphere is what makes Green Acre School a true community school. Bigger schools in bigger centres are striving to get the community atmosphere we have. It's built-in naturally. It makes it a special place to work.
Q: Is the enrolment rate going up or down?
A: It has bounced around a bit. A few years ago the population dropped a bit because we had a large graduating class. We're at 44 now and it's been stable for the last couple years. Within the next five years, I think we actually might go up again. Right now our school is under review, so we hope to show some projected numbers that will make things look better for the school four or five years down the road. The three-year projection may go down a little bit, but after that – when you start looking at the families moving in and beginning to have children – I think we'll see an increase. When I first started working as a teacher at the school, though, we were close to 100 students.
Q: Tell me about your teaching career?
A: I taught in Goodsoil for about 10 years and I also taught at Lakeview Elementary School in Meadow Lake and in Dorintosh each for one year. During my first year, I taught in both Dorintosh and Rapid View. I love the small school atmosphere. Teaching is a great job and, if you have the good fortune to teach in a small school, it makes it even better.
Q: Why did you decide to be a teacher?
A: Believe it or not, I applied to join the Royal Canadian Mounted Police right out of high school, but they weren't taking applicants. The only way I would have got in is if I was aboriginal, could speak French or if I was female. I didn't fit any of those, but they said if I got a degree it would help getting into the RCMP. I decided to pursue a degree in education. Every year I was in university I kept applying to join the RCMP, but they weren't taking anyone in the category I fit into. After four years of university, I was so broke and had so many student loans I had to get a job. I applied and I got hired up in this country. I'm originally from Loon Lake, so it was close to home. Once I started teaching, I loved it. It was a good move and I've never regretted it.
Q: Where were you born?
A: I was born in Loon Lake and grew up in Barthel. I graduated from Ernie Studer School. Back in the day, Ernie Studer was the biggest school in the division. It was huge. There were about 500 students and it was a good place to go to school. We had sport teams and all that kind of stuff. There was a lot going on. My dad, Max Maier, was a bus driver, so I rode on the bus with my dad every morning and every night to and from school.
Q: Tell me about your family.
A: My wife, Shawna, and I have two kids. Breanne goes to school at Green Acre and is in Grade 6. Our oldest, Matthew, is at Carpenter High School in Grade 10. They're doing fine and are good kids. We live west of Meadow Lake along the airport road and it's only about five miles from the school. We live on an acreage.
Q: What do you enjoy about living in the Northwest?
A: I grew up on a farm and I love the openness and how it's not crowded. I love nature. Even around the school, there is so much nature. We're able to go outside and do science experiments or have nature walks. I don't care too much for city living – I need the space. I wouldn't want to be anywhere else.
Q: You noted the school is under review, how devastating would it be for it to close?
A: It would be devastating for the community. Rapid View is a small community. If you drive through it and blink, you might miss it. But, there are a lot of people around. It's a rural area we draw from for our school. Everyone who lives in the country is here and we're the hub of the community. Our gymnasium is located in the recreational centre and the rental of the hall is helping to keep it open. It's an important part of keeping it going. We have potlucks and all sorts of school functions in there that bring the community together. The school is the centre of this community and it's vital to it.
Q: What have been some changes in terms of education?
A: Education is changing a lot. It seems it's changing faster and more often. As time goes on, there's so much research happening they're finding new ways to teach. It's a lot of professional development for teachers to keep up to date. It's important for teachers to participate in the development because it makes them better. It does add a lot of stress and time to the job, but the Northwest teachers are some of the best in the world. All the teachers in this division earn their money and then some. It's not an easy job. The ones who make it look easy are really good at it. When we get back in September, it's go, go, go full throttle until the end. It's nice to have the summer. The kids and teachers need it.
Q: What do you like to do with your spare time?
A: I like to go hunting and do some quadding and other things at the acreage. I'm always outside fixing things like quads, bikes or cars. I'm a hands-on guy. I've done a little bit of hunting this year with a bow and arrow. It's been more like me out there holding my bow because I haven't seen anything. I've also done a little bit of camping out looking for elk, but no luck yet. I'm hoping to get some deer. Last year, my son and I got a couple deer. We tried for elk last year too, but never shot any.
Q: How do you like to prepare the meat?
A: I have a couple of buddies who are big into hunting and they have all the gear to make sausage. We tried that last year and had a lot of fun. We got together, threw all our meat together, mixed it up and made a whole whack of sausage. It's about time we made some more because what I have is almost gone.
Q: How do you spend your summers?
A: We do lots of camping. We usually go camping at Meewasin Beach Campground near Loon Lake. We camp there for a couple weeks, then choose another spot for a week or so. We also try to do a bigger trip every summer.