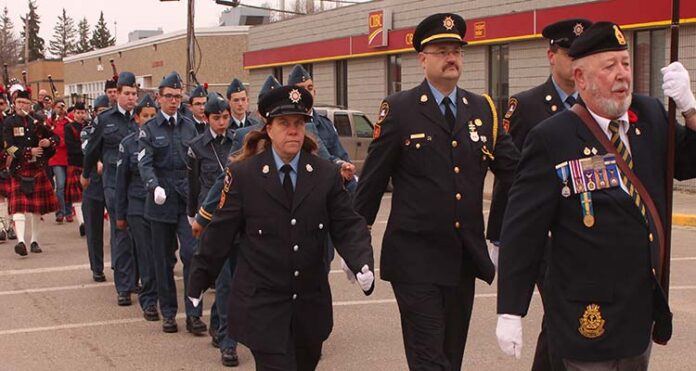 A granite cenotaph was erected outside Royal Canadian Legion Branch 76 in Meadow Lake Oct. 3 in honour of Canada's veterans. The ceremony began with a parade, which was followed by speeches and the unveiling of the cenotaph. Here, Legion past president Neil Currie serves as the flag bearer as he leads firefighters Christine Sawatzky, Rick Burnett and Scott Chuckrey, along with air cadets and others, toward the branch prior to the ceremony.
by Derek Cornet
The unveiling of a cenotaph in Meadow Lake Oct. 3 will forever remind residents of the service veterans contributed to society.
"We are finally at the completion of this project," said zone commander Paulette Bement during the ceremony held at Royal Canadian Legion Branch 76. "It is the most exciting time for us. It is the mandate of the Royal Canadian Legion to promote remembrance and this cenotaph is one way in which we can do this. We must always remember those who have served and those who are serving."
The project – which cost close to $65,000 – began five years ago when Legion members began asking individuals for donations. For several years, however, the construction of a cenotaph was at a standstill until about a year ago when a committee was formed. Committee chairperson JoAnne Carter said, once members starting requesting donations again, many groups were receptive to the cause.
During her speech, Carter said the primary motivation to spearhead the project was because she's proud to be part of an organization which honours those who made the ultimate sacrifice. She also expressed her thanks to everyone who made the day a reality.
"This cenotaph was built by the people, for the people – by organizations and businesses in Meadow Lake without any government assistance," Carter remarked.
The eight-foot, 5,500-pound black granite cenotaph is surrounded by four matching benches. Flowers and trees also beautify the area and five flags representing Canada, Saskatchewan, the Royal Canadian Legion, the Métis Nation and Meadow Lake Tribal Council serve as a backdrop.
In total, hundreds of people attended the event including Legion members and supporters, air cadets with the Meadow Lake 520 Squadron and members of the Prince Albert Highlanders Pipes and Drums. Local leaders, including Meadow Lake mayor Gary Vidal, Meadow Lake MLA Jeremy Harrison and Flying Dust First Nation chief Richard Gladue, were also present to share some words.
Legion branch president Terry Harris said the project was a dream come true for many people. He noted it's a great addition to the city and an idea that's been a long time coming.
"It will improve the city itself because we have never had a proper cenotaph, but most of all, it's for the veterans," Harris said.