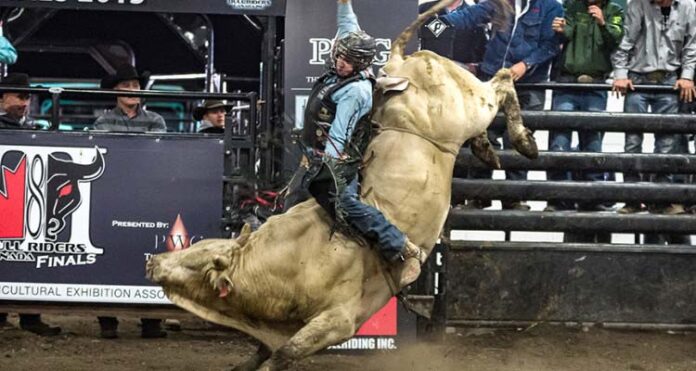 Meadow Lake's Cody Coverchuk rides Cooper's Comet during the recent BRC final in Lloydminster. Coverchuk would go on to win the event.
Photo by Jack Vanstone, Legendary Photoworks
By Phil Ambroziak
Nothing beats winning in front of a home town crowd.
And, for Meadow Lake's Cody Coverchuk, that's exactly what it felt like when he took top honours at the 2015 Bull Riders Canada final Oct. 2 and 3 in Lloydminster.
"It was great," Coverchuk remarked. "Lloyd is pretty much home for me, and my whole family was there to watch me compete."
The four-year veteran put up 82 points in round one and came out with the win in round two thanks to an 86 on Blue Stone from the Flying High Rodeo Co. Heading into the final ride he led the pack.
"On the first night I rode a really good bull named Strong Foundation," Coverchuk said. "I'd seen him a lot, so I knew it would be a good ride. Blue Stone was unridden all year and is a high-mark bull, so I knew I'd have my work cut out for me."
When no one unseeded him in the final go, his last ride only meant a bigger check as he'd already won the finals title and buckle. Unfortunately he would come up short on Cooper's Comet from Vold Rodeo, but still went home with nearly $6,000 in earnings to finish fourth in the year's final standings.
"I was bucked off in the final, but still had more points than the other riders," he noted.
Although Coverchuk has won his fair share of championships since becoming a professional bull rider, this is his first BRC finals title.
"I'm glad to now have this accomplishment on my résumé," he said. "BRC is a growing association and one of the largest in Canada. I was essentially riding against the top 30 bull riders in all of Canada and to come out on top of all of them is quite a nice feeling."
Coverchuk went on to say his goal for 2016 is to earn a BRC National Championship. The difference, he said, involves keeping track of drivers' entire points throughout the BRC season instead of only looking at those earned in the final two days of competition.
"Coming into the finals I recently attended, everyone starts with a clean slate," he said. "Still, I had a really good season. This was a good way to finish it off."
In the overall BRC standings for 2015, Coverchuk was ranked fourth with a total of 3,145 points and more than $15,000 earned in prize money. The number one rider, Brian Hervey of Brant, AB, had 6,595 points and earned close to $32,000.