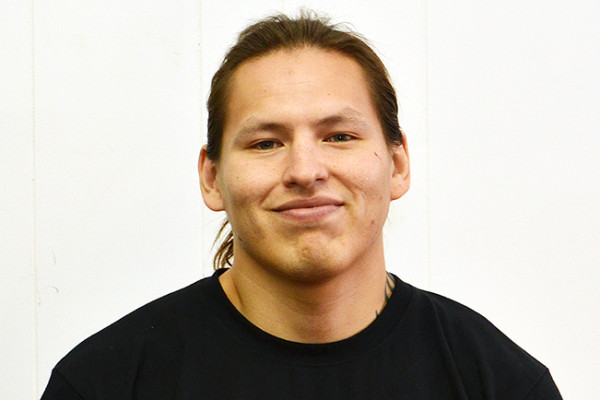 As a kid growing up in La Loche, Stuart Fontaine figured out the only way to succeed in life was to be different. He had the drive to get what he wanted and, as he grew older, it continued year-to-year. Last week, Stuart sat down with Northern Pride to share his story of chasing his dreams all the while knowing life isn't all sunshine and roses.
Q. Where did you grow up?
A. La Loche is my hometown. I'm from a family of five and two foster kids, and my mom was a single mother.
Q. What do you recall from your early days?
A. I remember playing a lot of sports – as many as I could. In school I played volleyball, soccer, basketball and hockey. Hockey is what I excelled at. I always saw myself, envisioned myself being somebody, something some day – not just another face in the crowd. I didn't come from much, so I wanted to prove to myself I could do whatever I put my mind to. I didn't want to end up being what I had seen around town – I didn't drink, didn't smoke, didn't want to be that kind of guy.
Q. You must have fished some too.
A. Yeah, I did. My late step-father, Cornelieus, who we called Ump-ooh, used to take me ice fishing a lot when I was a kid. But growing up in La Loche, a lot of kids already knew about fishing, so to be honest, I did learn to fish from my friends as well.
Q. Who influenced you?
A. My best friend Jules Boucher, my mom and my grandfather used to tell me in the Dene language, "If you're going to do something do it right otherwise don't bother." So, when I played sports I remembered and used that.
Q. I understand you left during high school?
A. I took off hitchhiking (smiling). People heard I was a good hockey player, and I was asked to go play at this tournament in Saskatoon. So, I left La Loche with just my hockey bag and a duffle bag. That's when I got noticed by some junior teams. When I got to Saskatoon that first night I slept outside the hockey rink. After that I was off to Saddle Lake, AB playing Jr. B. I then moved to Wisconsin to play in the Superior International Junior Hockey League, but eventually came back to Alberta to play for the Drayton Valley Thunder of the AJHL.
Q. Was that it for hockey?
A. Pretty much. My daughter was born and things kinda turned. When I left La Loche to play hockey I was introduced to mixed martial arts as part of my training to get in shape. One thing led to another and, while I was playing juniors, I knew I wanted to be a fighter.
Q. Did you fight in hockey?
A. Oh, I was a goon in hockey. My stats weren't the greatest point-wise, but my penalty minutes spoke for themselves. I had more than 200 minutes in penalties a season as a power forward. I was that big guy in front of the net they couldn't budge. I was 230 pounds back then, but have lost a lot of weight since those days. Today I walk around at 195, but when I fight MMA I'm 170 and fight in the welterweight division.
Q. Tell me about the MMA thing?
A. In 2007 I started training in Saskatoon, had my first fight in 2008 and I knocked out my opponent. Fought again and won and kept training. Eventually I got an amateur title fight and won that. I had more amateur fights until 2014 when I turned pro.
Q. What was that like?
A. That's when I found Complete Fitness and Martial Arts in St. Albert, AB, which became my home training grounds. My coaches are there, my teammates are there. They're my family.
Q. What are you training for now?
A. I'm not right now. I really excel at kickboxing, so that's what I'll train for when I fight next in 2016.
Q. So, you're coming out of retirement?
A. I wouldn't say out of retirement, but that I've taken some time off to train others up to par so I can have some sparring partners. This studio here opened because I want to help the younger people get started in the sport. It's my own gym and once I get it to the point where I can leave others to run it for a few months, then I'll begin some heavy training to get ready for a fight.
Q. Exactly how much training is involved?
A. If you're a serious fighter, it should take four to six months to get ready. Some guys can get off the couch and act like they can fight, but when you look at their records – they lose a lot. If you want to be a fighter, it's a full-time job. And the only way to make it is to have a lot of sponsors. You have to promote yourself because the prize money isn't all that high. The last fight I won, I took home a couple thousand.
Q. How do you prepare for a fight?
A. First off, you have to get out of your comfort zone – you leave family and friends to go train where there's a gym. You're alone and it's mentally draining because, in the back of your mind, you can't help but think about how you're going to afford to eat, things like that. You're worried all the time, but at the same time you have to focus on what's going on, which is training to fight. There's a lot of pressure, but I was hungry enough to go out and do what I do best to get past all that. Sure, it's mentally and emotionally draining, but at the end of the day I know this is where my heart is and this is what I want to do.
Q. People must look up to you.
A. Oh, for sure. I have people messaging me all the time on my fan page that I'm an inspiration to them. I get questions like, "how do you do what you do? did you have people to help you?" And I answer them back saying, it's all about you. Inside you. If you want it bad enough, you'll do it. I slept in my car during training camps when it was -40C because I didn't have money for a room. I remember my coach coming to the gym early and I was already here. He said I was the last one here last night and the first one this morning. I was too proud to tell him the truth, but it is true I'm always the first one to show up and the last one to leave. I always work my butt off to get what I want.
Q. How often do you get back to La Loche?
A. Not as much as I'd like to. Since opening up this gym in August here in Meadow Lake I've been pretty busy. I have people who come here because they want to train with me. It's an opportunity for others and the way we do things here, is we treat them like family.
Q. Tell me about your own family.
A. I'm in a relationship and we have two kids together – a daughter who's six and a son who's one-and-a-half. I have an older boy too who's now seven. I now want to be with them more and I don't want my kids to take the same path I did. I want to give them opportunities I didn't have growing up. Sure, I'm aggressive when I fight, but in reality I'm a big teddy bear. I love my kids and show them a lot of affection.
Q. Will they follow in your footsteps?
A. My youngest son… I'm not going to force any of this on him. But when he comes into the gym, he knows what's going on even though he's not even two yet. He mimics everyone who's in here. He's punching the bag, putting on the boxing gloves and I think he gets a lot of that from watching Ninja Turtles on TV. We call him Ninja, but his real name is Syro. My daughter, Daysianna, has been training since she was little. They may not become fighters, but I want them to learn how to defend themselves.
Q. Why do people come to your gym?
A. To gain knowledge of self-defence and at the same time get in better physical shape. At the gym here we promote a fun and safe atmosphere. It's called Warrior Spirit Kickboxing and MMA and we have kids as young as five and as old as people in their 40s.
Q. What is your ultimate goal?
A. In 2016 I want to strictly focus on kickboxing. As long as I have the drive to pursue it, I feel I can be as competitive as the next guy. And, in the meantime, I want to make and train my own champions right here in Meadow Lake.
Q. What are some words you live by?
A. It's from James Cook… "Do just once what others say you can't do, and you will never pay attention to their limitations again."