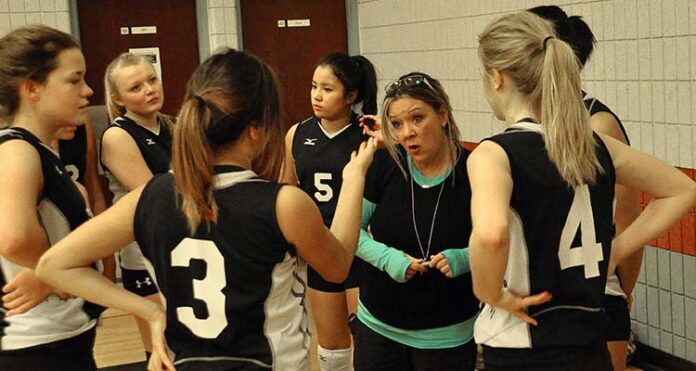 by Phil Ambroziak
They may wear black and gold, but – by the end of the district volleyball tournament hosted by Jonas Samson Junior High Oct. 31 – the Meadow Lake boys team was wearing black, gold and gold.
The boys finished first overall, going undefeated throughout the final tournament of the season and capturing the top prize in front of an appreciative hometown crowd.
"We started things off Saturday morning against Onion Lake, winning in two straight sets by scores of 25-11 and 25-17," explained CHS boys coach Trent Marsh. "We also won our second game against E.S. Laird Middle School from Lloydminster in two straight – 25-17 and 25-21."
These victories allowed JSJH to finish first in its pool and advance to the playoff bracket where their opponent in the semi-final round was Bishop Lloyd Middle School, also from Lloydminster. Again, the Meadow Lake sqaud overcame the opposition, winning both sets by scores of 25-15 and 25-12.
"That put us in the final against La Loche," Marsh said. "This was a close one, but we took both sets by scores of 25-23 to win the district championship. It was a pretty exciting moment for the boys with the biggest highlights of the tournament happening in the final."
JSJH was leading 24-20 in the first set until La Loche was able to score three straight before missing a serve to end the set.
"In the second set, we were down 23-20 when Rico Opikokew went back and served five straight serves to put the ball in play and give us a chance," Marsh said. "We also played great defence. The game finished with a couple nice points. Firstly, Ty Edwards made a smart play to tip the ball down the line instead of swinging it into a big block. This put us up 24-23 with the final point scored when Kyle Morin made a perfect pass to Jace Timmer who made a nice set to Rosaire Iron who had a big kill for the win."
The JSJH girls also competed at home as part of the 2015 district championship.
However, the team lost both its games on Saturday to Holy Rosary High School and College Park School both from Lloydminster.