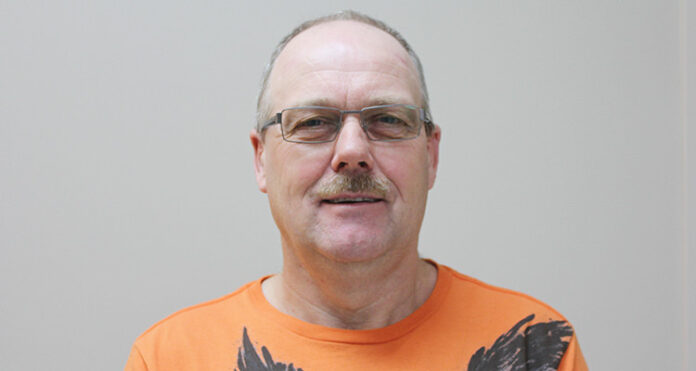 RM of Meadow Lake councillor, Perry Brookes is the chairperson of other regional organizations. Recently, Perry spoke with Northern Pride about the 2015 Saskatchewan Association of Rural Municipalities mid-term meeting, council projects and raising triplets.
Q: Tell me about the recent Saskatchewan Association of Rural Municipalities (SARM)meeting you attended recently.
A: The mid-term meeting usually isn't really intensive. It's a little more calmer than it is at the annual convention, which is held in the spring. It was an update of what all the programs with SARM are doing. They talked about the new federal government coming into play, how it's going to affect what's happening with SARM and what's coming down the pipe. Where the money is going to be was the biggest thing. The provincial agriculture minister was there and he talked on some of their different programs. The environment minister also had an update of their programs. Some of the programs are administered through SARM. There were also resolutions put forth.
Q: Did the RM of Meadow Lake put forth any resolutions?
A: There were 15 resolutions and we submitted one. When the Saskatchewan Assessment Management Agency does its tax assessment of industry, they only look at the buildings and property. They don't look at any of the machinery or anything inside. When the last tax assessment was done on Meadow Lake Mechanical Pulp, they had what's called obsolescence. The building is still there and being used, but there is an option of obsolescence and they can appeal their tax assessment. They think because they modernized the mill and are not using a certain part of the building anymore, the taxes should go down. Everyone has one of those tools to try and save money and this one works in their favour. We want to see the assessment on the equipment in the building as well as the building. It was passed and the rest of the delegation thought it was a good idea. Now, SARM will take it to the provincial government and lobby them to see if they'll do something about it.
Q: How long have you been involved in RM politics?
A: Since 2006. The RM of Meadow Lake built a bridge on the east side of the RM and I was all up in the air about the RM building this bridge – not having an understanding of what was going on. I was a ratepayer who was concerned. I live along the Beaver River and the RM was building a bridge for someone over there. I went to work one day and I was upset about it and he said the only way I was going to fix it was to get a nomination form. So, he went and got a nomination form and a neighbour of mine signed it. I was elected and I'm still here today.
Q: How many years have you been elected?
A: When I first got in it was every two years, but now it's every four years. I was elected in 2006 and re-elected in 2008 and 2010. The first two times I got in by acclamation because nobody else wanted this job. In 2012, I got in again and now I'm in for four years.
Q: If nobody wants the job, why do you?
A: When I first became involved, it took one year just to get an understanding of what's going on. The second year I was more involved, but I couldn't really do much so I let my name stand for another term. I have more of a sense what's going on in the world. It's time-consuming. When I got into it, I thought it was the three Gs of being a councillor – grading, gravelling and grass cutting. It's far from that.
Q: How involved are you with the RM?
A: We're involved with the North of Divide Community Association (NODCA). I sit as the chairperson on the committee. We're involved with waste management, which is another regional organization made up of the rural and urban municipalities in the area. I also sit as chairperson on that. We're slowly trying to get all the ratepayers in the RM in the loop with building and development permits. The government is putting the rules in place and telling us we need to enforce them and, if we don't, we become liable. It's getting better and better, but it's a learning experience for everyone.
Q: Is there a new RM office building coming soon?
A: We bought a piece of property between the Four Season Motel and Hercules Appliance. We're looking somewhere down the road at building a new office. Our office is getting old and we did some work to the roof recently. We're hoping to get by for another year or two. It's in the preliminary stages of looking at different designs. It's far from being built yet.
Q: Does NODCA still employ a bylaw enforcement officer?
A: We terminated the bylaw enforcement officer at the end of August. There was a lot of discernment with him. The RM of Beaver River didn't want bylaw enforcement, so they backed right out of it. There was some talk it was something the rest of the ratepayers didn't want. He didn't have a lot of teeth in what he could do due to the fact he was a bylaw enforcement officer. He couldn't do anything else in terms of safety concerns. He was just in the public eye to make people aware there are bylaws people need to adhere to.
Q: How will bylaws be enforced now?
A: We're in the process of looking at a community safety officer, which is one step farther than what a bylaw enforcement officer would be. We're in the preliminary stages with that too, and NODCA will need to hire an individual, send him to a community safety officer program and then have him come back.
Q: What about hiring a police officer?
A: That's been talked about, but were still in early stages of that too. The RM pays a retainer to the Meadow Lake RCMP to have an officer in our area, but they're short staffed and, with NODCA, we were looking at paying for our own individual police officer. It sounded good at the start, but it's having its hurdles.
Q: How's NODCA's district community plan coming along?
A: We're still trying to get it finished off, but the RM of Beaver River doesn't want to belong to NODCA anymore. They want to back out. We'd love for them to stay in, but the council of the day feels it's the best decision for them to leave. The RM of Loon Lake is what we call an associate member and they're also having some mixed feelings. Now there's been some controversy with the bylaw enforcement, people are going backward rather than forward. We feel we are making steps and the provincial government is really pushing for regionalization. They say if we work together as a region, it will work better for them and us.
Q: How long have you lived in the Northwest?
A: All my life. I was born in the old, old Meadow Lake Hospital and I was raised near Meadow Lake. I live on my grandfather's homestead right now. He came up here in 1918. He was originally a banker south of Lloydminster. He had a dream of ranching and heard about the beautiful meadows along the Beaver River and moved up here. My father took over from him and now we're taking over from my father. Hopefully, in 2018, we'll have our 100-year century farm recognition. My oldest son, Adam, is very interested in the ranch. He has a few cattle out there and he's interested in taking over for my brother and I when we get out of it.
Q: What's ranching been like lately?
A: The year has been excellent. The price of cattle is good right now. The price of grain is down, but the demand for the cattle is there.
Q: Tell me about your family.
A: My wife, Linda, and I have four children. Adam is 25 years old and his wife's name is Melissa. They're expecting a baby in March 2016. I have three other children who are triplets – Kelcie, Amanda and Kole. They're now 23 years old.
Q: What was it like raising triplets?
A: My wife spent three months in the hospital when she was pregnant. They were born Jan. 24 and never came out of the hospital until the end of February. We brought them home and when we fed one, we fed them all. We worked on a routine. It was hectic, but we survived. We did what we had to do to bring them up.
Q: What's special about triplets?
A: You get a family fast. They always had someone to play with. They learned to get along really fast. It was a special time for us.