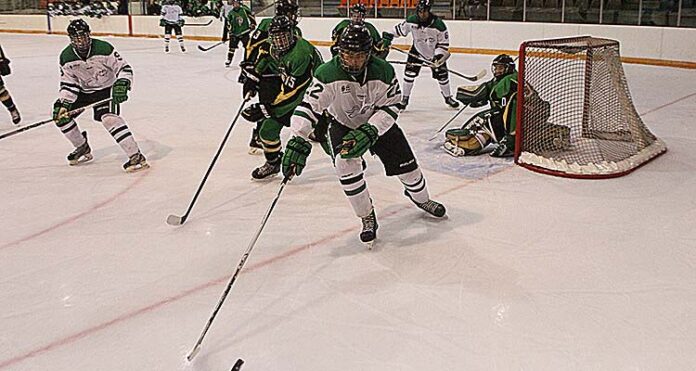 by Phil Ambroziak
A solid performance on the weekend has moved the Meadow Lake Midget Stampeders 'AA' into ninth place overall in the 2015-16 Centre Four Hockey League standings.
The Stamps played host to both the first-place Prince Albert Raiders and the fourth-place Saskatoon RiverKings, the former taking place Friday (Nov. 6) at the Meadow Lake and District Arena and resulting in a 4-4 tie.
"Our boys are starting to play within a structured plan and forming a strong team identity," remarked Stamps coach Mike Radford. "We as a coaching staff are pleased with our commitment to structure and subsequent improvement in play."
Meadow Lake opened the scoring in Friday's game with a goal by Shane Hounsell at the 7:03 mark of the first period. Prince Albert would tie things up at the 9:21 mark of the second period, but with seconds remaining Justin Hebert would gain another one for the Stamps making it a 2-1 game after 40 minutes. Meadow Lake would earn two more early in the third courtesy of Jadyn Trimble and Hounsell, but P.A. would also gain another three late in the game resulting in the 4-4 tie.
Saturday's game, also contested in Meadow Lake, saw the Stamps take a 4-0 lead in the first period with goals from Hounsell, Hebert, Jesse Hawryliw and Justyn Noltcho-Clarke. Saskatoon would score the lone goal of the second period, as well as two more in the third. A third-period goal scored by Dylan Esau at the five minute mark of the third would cement Meadow Lake's 5-3 victory.
"The Midget Stampeders have matured as players in the recent games against Prince Albert and the Saskatoon RiverKings," noted fellow Stamps coach Len Esau. "They fought hard to preserve a tie against the top team in the league and then, the next night, against the RiverKings were able to maintain the early lead and win that one by two goals."
Esau went on to say both games were great in terms of character building.
"It was a great weekend for the Stamps to gain confidence in themselves and their abilities, as well as earn valuable points in league standings. They earned three out of four possible points. That's a great weekend."
Next on the schedule for the Midget Stamps is a home game this Saturday (Nov. 15) against the third-place Saskatoon Screaming Eagles.
Peewee Stamps struggling
Meanwhile, in the Centre Four Hockey League's Peewee Division, the Meadow Lake Peewee Stampeders remain winless with a record of 0-8. In their latest outing, a Nov. 8 game against the Prince Albert Raiders held in P.A., the Stamps fell 16-2. The team's next games are set for this Friday (Nov. 13) against the Battleford Barons and Sunday (Nov. 15) against the Raiders once again. Both of these games will be played at PineRidge Ford Place on Flying Dust First Nation.