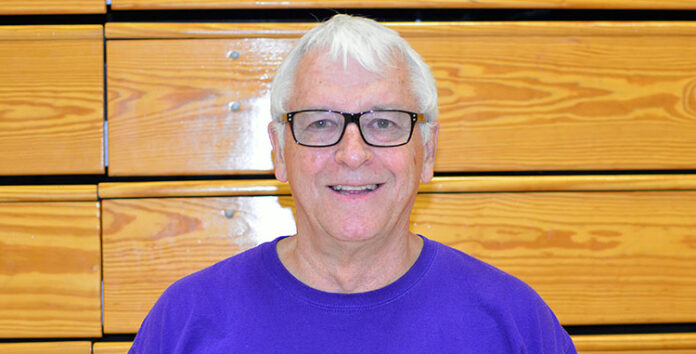 The name Greg Hatch has been synonymous with both sports and physical education in La Loche for the past 40 years. Last week, Greg spoke with Northern Pride about his lengthy career, the girls recent regional volleyball playdowns and the pride he takes in his family.
Q: What does it mean to La Loche Community School to host the 4A girls regional volleyball tournament this year?
A: It's a very exciting time for us. We not only get a chance to play at home for a change, but we also get to welcome seven other teams from the south to our school and our community. We've been on the road quite a bit this season – we've already put on 6,740 kilometres – so we're excited to have teams from throughout the region travel here and to have the opportunity to play on our home court.
Q: What sort of work goes into organizing an event of this nature?
A: Phyllis Longobardi (the La Loche boys volleyball coach) is the person who takes on the most when it comes to planning these large events. She spearheads the whole thing, but a lot of work is also required by a lot of people. We feed the visiting players and coaches, and we put them up in classrooms which requires setting up a lot of cots throughout the school. We have to find referees. We also have a large group of volunteers who do all the cooking, janitorial work and much more. But, between the school staff and many others, we're able to make these big events successful. There's going to be a lot of people here considering there will be eight teams including ourselves. Most of the other teams are coming from the Saskatoon area.
Q: What kind of feedback do you get from these southern teams regarding the travel involved in getting to La Loche?
A: Parents and coaches often have a lot of questions when they find out we're hosting an event because a lot of these other schools don't travel on a regular basis let alone all the way to northern Saskatchewan. But, by the time they leave, their time here has probably been one of the better volleyball experiences they've ever had.
Q: I guess the travel doesn't matter so much if it means they get to play the sport they love.
A: Absolutely. Once people get here, they are immersed in volleyball. It always turns out to be a very positive experience for everyone. And, for the most part, this is the first time a lot of these people have been this far north. When we hosted provincials last year, people couldn't say enough good things about their time here.
Q: How is the La Loche team looking this year?
A: The majority of our girls are Grade 11s, which means they started when they were in Grade 9. I believe, if we just take care of the ball when it's on our side of the net, if we're able to keep it going over and if our serves are efficient, we should be able to finish in the top two and move on to provincials which will be held in Rosetown. The girls have put in a lot of time and played a lot of games, so – no matter what the end result is – I'm very proud of them and the passion they have for the sport of volleyball.
Q: How important is it to develop strong relationships with teams from other schools?
A: It's very important. We definitely have a very good relationship with not only Carpenter High School in Meadow Lake, but also Jonas Samson Junior High in terms of sharing resources and learning from each other. It all started with Ron Dosdall when we started a basketball program in the late 1970s. Terry Dallyn has also been another great supporter over the years, as have so many others. At the end of the day, any sport is not really about the score, but rather about the journey or the process. It's about friendships and about never knowing where it's all going to lead or who could be there watching. We also have a strong relationship with the schools in Prince Albert.
Q: How long have you been coaching?
A: I first came to La Loche in 1976. A year earlier, the school opened a brand new gym. I was the new phys ed teacher and, in those days, the phys ed teacher coached everything. In addition to volleyball, I coached cross-country, track and field, basketball – a little bit of everything. When I started, I probably didn't know much about volleyball whatsoever because we never played that sport when I was in school. I grew up in Dryden, ON and that's football country.
Q: But, you're strictly volleyball now?
A: Yeah, I really got into it fully around 1996 when we started a club program. I mostly coach girls, but with the club I was also coaching junior boys.
Q: You mentioned football. Is that a sport you played?
A: I played throughout high school, but became involved again more recently when high school football came to the North. That's when I got into the officiating side of things, although the first few times I was out there I may have been dressed as a referee but I'm not entirely sure I knew what I was doing. Still, I got out there and did my best. It's just so exciting to see football as successful as it is in this part of the province.
Q: Do you currently take part in any sports?
A: Not so much now, but I did play hockey until up to about five or six years ago. I still like to run and I get on the bike whenever I can. I like to stay as active as possible.
Q: What led you to a career in physical education?
A: I did all my schooling from K-13 in Dryden and, during that time, I always had a love for the gym. I also had a lot of encouraging people who coached me in school and in the community back then. One of the most influential guys I've ever met was my high school hockey coach, Mike Furlong. He was a very positive guy who believed, to be successful, you need to be disciplined off the floor as well as on. I received my phys ed degree from Bowling Green State University in Ohio where I also played varsity hockey.
Q: How did you end up in the North?
A: After Ohio, I moved to Thunder Bay, ON where I received my bachelor of education. While in Thunder Bay, I had the opportunity to be part of a pilot project that allowed me to go to a northern reserve near Red Lake, ON for a two-week practicum. It was a positive experience and, when I graduated in 1976, I applied for a job with the Northern Board of Education. Shortly thereafter, I received a call asking if I'd be interested in teaching phys ed in La Loche as part of the Northern Lights School Division. I accepted and that's how I got to be where I am today. My start came in La Loche and that's probably where it's going to end.
Q: You've been a phys ed teacher in La Loche this whole time?
A: Actually, seven years ago I took on the role of extracurricular wellness consultant for the entire school division. I'm still based in La Loche, but I work with all the schools to help get various extracurricular activities going. I figured, however, since I'm the extracurricular wellness consultant, I should also continue coaching. When I was a student athlete, I had so many coaches take me places and give me opportunities, so this is about giving back. Hopefully, the people I coach feel the same way and, one day, will do their part to give back and keep programs like this going.
Q: Any plans for retirement?
A: I'm not sure yet. I have six grandchildren – three boys and three girls – which I say is enough for a co-ed volleyball team, but they're still pretty young. I do look forward to having more time to with them, but the main thing for me is to keep active and to keep moving.
Q: What's kept you in the North for so long?
A: It's just been a great experience for me. It's been a very positive experience. I have more family here now than I do in my hometown. It's just been such a rewarding place to work and live.
Q: Tell me more about your family.
A: I have three children. My daughter, Alexia, lives in Saskatoon where she works as a nurse at the Royal University Hospital. My son, Alwyn, is a phys ed teacher at Birch Narrows Dene Nation and my other daughter, Alvera, just graduated with a nursing degree in May. They all went through the school system here and all played volleyball. I'm very proud of them.