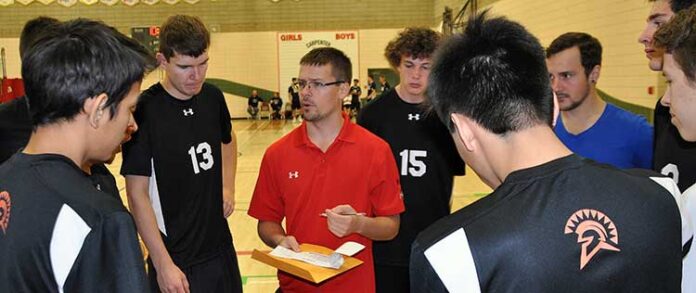 by Phil Ambroziak
The Saskatchewan High Schools Athletic Association (SHSAA) regional tournaments held this past weekend (Nov. 14) had a bittersweet ending for Meadow Lake's Carpenter High School.
While the CHS boys placed third overall in regional 5A pool play (there was no playoff round) to advance to this weekend's provincial tournament in Swift Current, a loss in the quarterfinal round dashed the CHS girls' dreams of competing for a provincial medal. This is the second year in a row the girls have missed provincials.
"I feel, although we didn't do as great as planned, it was a fun weekend to end my senior year," remarked Tasha Huffman, one of six Grade 12 players to experienced their final CHS volleyball game at regionals.
In round-robin play, the CHS girls finished third in their pool with one win and two losses. In the playoff round, they lost two straight sets to Martensville. While Carlton Comprehensive High School from Prince Albert ultimately won the event, their counterparts from nearby St. Mary High School will join Martensville – this year's host team – at 5A provincials this weekend (Nov. 20-21). As disappointed as she is in the final results from regionals, Huffman said she has no regrets.
"The final game was a hard one and the pressure of it being our last game definitely difficult," she said. "I wish we were heading off to provincials this weekend, but it just wasn't in the cards for us."
It was in the cards, however, for the CHS boys. They hosted regionals in Meadow Lake, an event that saw them finish third l.
"We squeaked in there," stated CHS boys coach Cheyne Dallyn. "Only the top three teams advance to provincials."
In their first game of the tournament, CHS defeated John Paul II Collegiate from North Battleford in two straight sets. They followed this victory with a three-set win over Carlton Comprehensive from P.A.
"This was a big win for us because it was the first time we beat P.A. Carlton this season," Dallyn said. "But, we lost our next two games – to St. Mary High and North Battleford Comprehensive."
In the end, however, Dallyn said this didn't matter because the boys accomplished their goal of reaching provincials.
"They got the job done," he said. "Now, we'll head to provincials and see what happens there."
Also headed to provincials this weekend will be the 2A girls squad from Pierceland Central School. During regional playdowns held in St. Walburg, Pierceland finished first in its pool before going on to place first overall with wins over Leoville and St. Walburg in the playoff round. Rossignol High School from Ile-a-la Crosse also competed, but lost to St. Walburg in the semi-finals.
"All our players did their very best," said Pierceland Grade 12 athlete Dana Eistetter. "This had to be the best we played all year."
Eistetter went on to say she's looking forward to the provincials in Porcupine Plain, adding the team is prepared to give it their all.
"We competed at provincials when I was in Grade 10," she said. "At that time, it was sort of overwhelming. Now, we're ready. We just need to remain confident and play how we've been playing all season and we'll do fine."