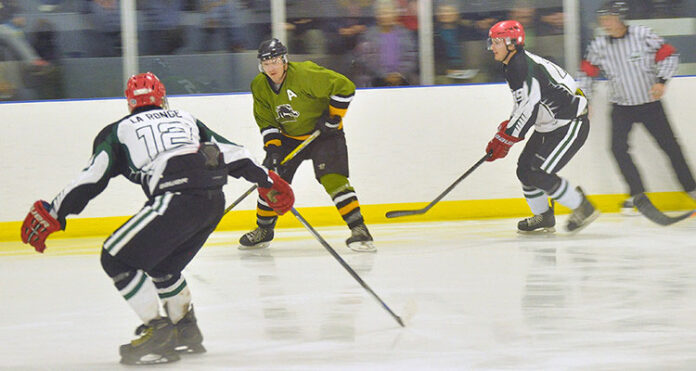 by Phil Ambroziak
There's a new yet familiar face on the Meadow Lake Broncos' bench these days.
Recently, Lloyd Esau was brought on board as the new assistant coach for the Beaver Lakes Hockey League team, a decision he said wasn't made lightly.
They asked me about three weeks ago, but at first I figured they already had enough coaches," Esau said. "When they asked me again about a week ago, I decided I'd go ahead and give them a hand."
Esau has never coached a senior hockey team before, but did play with the Meadow Lake Stampeders and has a great deal of coaching experience at the minor hockey level. He's headed up both Midget and Peewee teams over the years and said, while there are some members of the Broncos team who he doesn't know too well yet, there are others he's known for a long time.
"I coached guys like Jarret Aschenbrenner and Ashton McIntyre when they were still playing minor hockey," he added.
Esau went on to say he's proud to be part of the team and looks forward to helping in any way he can. According to Broncos player Darren Caron, however, he's already been a big help.
"Lloyd is such a great guy who's both played with and coached some good hockey teams over the years," Caron said. "He brings a lot of things to the dressing room many of us may have overlooked. There's always a few veterans in the room with people like Ray Esau and Rick Dallyn, but – as a coach – Lloyd brings so much more. It's great to have someone like him helping out on the bench."
Caron also believes Esau's influence helped the Broncos pull off three straight wins on the weekend. Friday, the team was in Moosomin First Nation where they defeated the hometown Warriors 10-2.
"We may have caught them off guard a little, but we played good positional hockey and buried all our chances throughout that game," Caron said. "In fact we played great hockey all weekend."
On Saturday and Sunday, the Broncos played host to the La Ronge 89ers, winning the first contest 6-5 and dominating the second 6-1.
"We started out strong on Saturday, taking a 3-0 lead in the first 10 minutes or so," Caron continued. "Then, we started getting into some penalty trouble. When that happens, it really messes things up on the bench. Luckily, we were able to get back into the game and had a very strong third period."
La Ronge, meanwhile, came to Meadow Lake with a short bench. Only 10 skaters were on hand.
La Ronge team manager Kevin Roberts said, in spite of the losses, his squad gained some much-needed experience.
"These last couple of games probably saw our youngest lineup out there," Roberts said. "We did have a few guys who couldn't make it because of work commitments while a couple of others are out with injuries. But, that's senior hockey. We went with what we had and, I think, were able to still give the fans their money's worth."
Caron added his team played better in the Sunday game.
"We stayed out of the box for the most part," he said. "When it was five-on-five, it was some really great hockey. We caught a tired 10 guys. If it wasn't for some really quality goaltending on their part, the score could have been even more lopsided."
Broncos newcomer Zane Morin agreed.
"Our defence played well and Ricky (Dallyn) was amazing in net," he said. "In the end, it came down to our best players outplaying their best players and, when you have a close-knit group like us, it's fun to play. That's when you end up winning."
This coming weekend, the Broncos will be in Blaine Lake to meet the Muskeg Blades Dec. 19.
As for the 89ers, they'll travel to Leoville Dec. 18 to face the Huskies and to Big River to challenge the Braves Dec. 19.