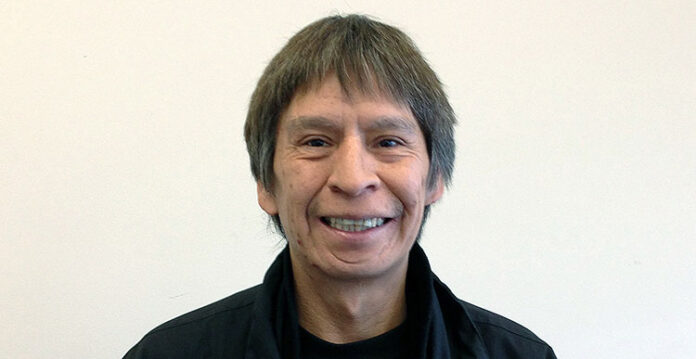 It was a busy summer for Weyakwin fire chief Warren Lavallee considering his crew was called to battle several wildfires. Recently, Warren spoke to Northern Pride about the fire which threatened Weyakwin in June, life in the hamlet and what makes for the perfect Christmas tree.
Q: How long have you been Weyakwin's fire chief?
A: This is my 11th year as fire chief. I took over for a friend of mine, George Natomogan. I decided to get involved with the fire department because I lost an uncle due to a fire. He died in a trailer fire down by the lake here. He was in the trailer with a friend and his friend made it out, but he didn't. When I found him, they were spraying in there. I went to the side of the trailer and I saw his body laying there and told them to quit spraying. I didn't like that, which is why I wanted to be on the fire department. About a year after that, George stepped down and I took over.
Q: How many people are with the fire department?
A: There are six of us. My three sons are involved – Jordan, Brent, and Matthew – as well as Mervin Natomogan, a friend I grew up with. He's the assistant fire chief. I have no deputy-chief right now. We're in the process of looking for a deputy. My sons have been involved for about two years now. Most of the crew lives on the same street I do. We do get the odd chimney fire every so often – at least four times a year.
Q: This summer must have been a busy one for you.
A: We had quite a few fires. We were at the Torch fire near Love, SK, then there was the Ridge fire near Candle Lake. We were at the Torch fire and we got it somewhat contained, then we had a few days off and we were sent to the Ridge fire. It was dry during the summer. There was a lack of water everywhere it was so dry. Just trying to find water to fight the fires was hard.
Q: What was your role during the fires?
A: I'm a Type-2 firefighter. This was my eighth year as a crew leader. There are five people on a crew and there are four workers below me. We work for the Hamlet of Weyakwin and, when fires begin heating up, we're put on standby from wildfire management. Most of the time, we work around the community and fix things. We have two crews here.
Q: What kind of stories stood out from this past summer?
A: The Torch fire in June was going good when we got there and they were telling us nobody could fight it. We told them that's why we were there – that's what we do. We had to stay out in the farmland and we used an abandoned building. We took some two-by-six boards out of it and put our tent up. The next day, we had flareups all over. We were trying to protect houses in the area. I had a six-by-six (army truck with water tank), a nudwell, a big truck and a Caterpillar with me, so we were cutting trails and trying to block the fire from going into people's yards. We had one that was 20 feet away and our six-by-six travels about five km/h, so we had to wait for it to come along. We raced there and had our shovels. We were throwing sand and patting it down. We would get smoked out, then run back toward the fire. We kept doing that. We finally brought it under control when our six-by-six showed up. There were days when the fire blew up on us and they wanted to evacuate us. But, we were able to tackle it and take the fire down.
Q: When did a fire reach Weyakwin?
A: The Crystal fire hit on June 28. On the 26th, they began evacuating people. The fire reached our gravel crusher, just north of us, at about 4 a.m. I was told wildfire management tried to action the fire earlier that day, but the pumps they had weren't operating at the time. The fire picked up and kept going and they didn't do anything with it. They didn't action it again. At 4 a.m., we were out there with our fire truck. There were also some Type-1 firefighters out because we could hear them on the radio. When we got to the crusher, we put the fire out near the gate and the fire jumped, so we had to put that out. Then, we saw it going up some trees on the other side of the road, so we went over there and put it out. The next day, we had fire boundaries around it and it went down a fire guard. The fire was circling the fire guard and we were trying to keep it out of the community. There was spotting by the river, so we had to take care of those hotspots too.
Q: Did anything strange occur?
A: There was one day the fire lit up by our church. We were a few miles away, so we raced back to it and surrounded the church. There were helicopters bucketing along the edges of the fire. We had six lines going to the fire hitting it. The helicopter, though, he was bucketing from our lagoon. He was dropping feces and stuff down on the fire. Nobody knew where he was getting the water from because he was moving fast.
Q: What do you think about using the lagoon?
A: Some of the guys were getting sick. People were complaining about the smell and getting sick. I don't know if anyone got drops on them. They had a safety officer come in to talk to us about them using the sewer. I guess it was a last resort because that's how close the fire was.
Q: What kind of damage did the fire do to Weyakwin?
A: We lost one house the day the fire hit. It belonged to Mervin Natomogan who is the other fire crew leader here. When everyone came back, they were surprised because of the devastation. When they got here, they saw how close it came. Also, some of the equipment used made a mess near the lake. Now, it's not the same anymore and there are people logging through it now. There's lot of burnt trees and it doesn't look good.
Q: Had you ever experienced anything like this past summer?
A: No. The day the fire hit here a nice bright light came out for a bit, then all of a sudden it went black. There were ashes and embers and it got really hot and the burn came along strong. We didn't know what it was, but we heard this loud bang as the fire came over the hill. It was like something exploded. It must have been the fire. That day, we kept the fire at bay but it seemed like Weyakwin was going to be gone.
Q: What's the fire department doing these days?
A: We're in the process of doing some structural training. We're also doing some fundraising to get more fire training done. We're doing training on breathing apparatuses and training people how to use the truck. The majority of the time, I operate it. We're also doing some work with rescuing.
Q: How long have you lived in Weyakwin?
A: Almost all my life. I was born in La Ronge, then I lived in Molanosa before we moved here. I moved away briefly in 1985 and came back in 1999. My wife, Yvonne Cachene, and I have been together 27 years.
Q: What do you like about living there?
A: It's quiet. It's a small place because there are only 80-100 people here. I'm also the chairperson for our recreation club and we're trying to do some things for the kids. Recently, our firefighters renovated the upstairs of our hall and we're going to name it Leah's Loft after a woman who passed away a while back. It's going to be a hang out centre for the teenagers. Hopefully, it will keep them from getting into trouble. There are actually pretty good kids here, we just need to catch them before they get out of hand.
Q: What's it like there in the winter?
A: It's not bad. I go around shovelling people's yards. It gives me something to do. I'll also go to the hamlet office because they're always looking for a worker. We also just finished our outdoor ice rink. Every year we talked about doing it and never did, but this year we did it. We used the fire truck to flood it, so we have a large ice surface and the kids are loving it.
Q: Are you getting ready for Christmas?
A: We just got a tree the other day. I had it leaning up against the wall and my grandkids began decorating it even before it was on the stand. We like to get a real tree at our house. I like the smell it has. It's not the same with a fake tree – I don't care for them. Some people are starting to put up lights. We're going to decorate outside our hall too. There's some trees outside of it and we're going to put some lights on them.
Q: Is there something you look for in a tree?
A: It has to have lots of branches, so it will hold properly. I got a spruce tree this year. It has to have lots of branches and not be out of shape. We have ours decorated now and it looks great.