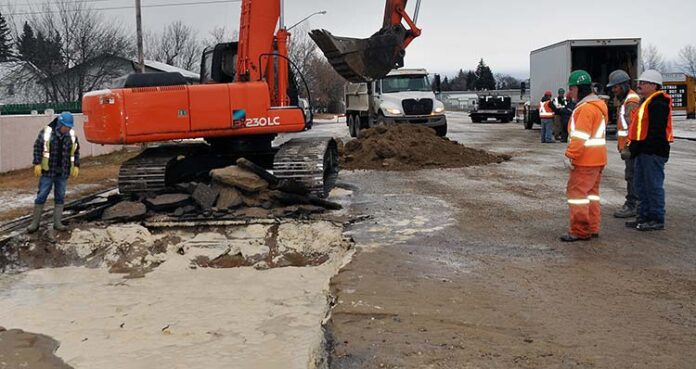 by Phil Ambroziak
Students at Jubilee Elementary School in Meadow Lake received an unexpected day off last week when a broken water line resulted in classes cancelled Dec. 10.
The break, which involved a previously repaired line beneath 5th Avenue West, actually occurred one day earlier. The water supply to Jubilee was shut off by 12 noon as a result, but classes continued throughout the afternoon. A letter sent home with students notified parents of the next day's cancellation.
"That was a decision made by our central office (Northwest School Division)," explained Jubilee principal Daryl Pearson. "At our end – when the water was shut off Wednesday afternoon – we stocked up on bottled water and brought in water to flush the toilets."
Although children stayed home Thursday, Jubilee teachers and other staff members were still at work busily preparing things for the students' return the following morning.
"It wasn't too much of a setback," Pearson said. "We only lost one day of Christmas concert practice."
Aside from Jubilee and the last-minute effort required of some parents to find adequate childcare for Thursday, the damaged water line also impacted residents who live close by to the school. In order to accommodate the necessary repairs, water service was turned off to some homes on 5th Avenue West, parts of 7th Avenue West, as well as Esau Street, Evans Place and other nearby locations. Michael Connelly, a teacher at Gateway Elementary School who lives on 6th Street West, was one of those affected.
"It was inconvenient because we had no water to cook or to wash up," Connelly said. "My driveway also flooded and, because the road was blocked, I couldn't get my vehicle out."
According to the city, repairs were completed by Thursday evening.
"It was a steel line that had rusted right out," explained Mike Morrant, the city's public works foreman. "From what I understand, the same line broke 20 years ago. While repairing it this time, we found the old repair. A hole had blown through just ahead of the old fix."