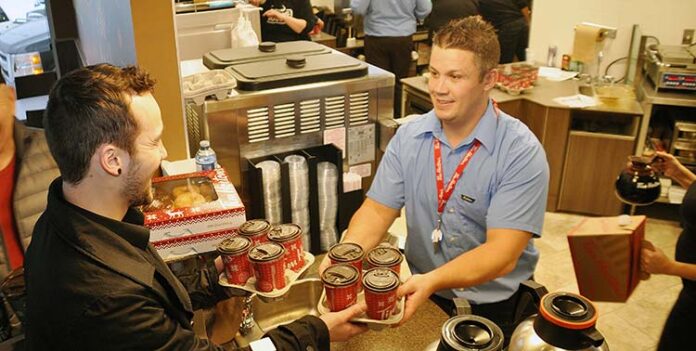 by Derek Cornet
It's been a busy week for the new Tim Hortons restaurant in Meadow Lake as coffee and donut lovers seek out their favourite snacks.
The store officially opened Dec. 11 at 7 a.m. and it didn't take customers long to realize it was open for business. Franchisee Jon Mirasty said he was hoping for a quiet opening, but admitted the initial rush hit them hard.
"There was a lineup out the door the first two days and, with the new staff, it makes it even harder," he remarked. "It's a big learning curve for all of us. Like with me in hockey – with practice, you get better. Every day it will improve more and I see the improvements already."
For the first week, a crew from Ontario assisted Mirasty and his staff with operations. Mirasty said, when the restaurant opened, no one on staff had prior experience and training was largely all done on the job. He also noted duties at the franchise aren't all about pouring coffee, as there's a considerable amount of cleaning and equipment work to be done.
Meadow Lake friends Ashley Ellis and Sara Brander were having coffee together at the restaurant Dec. 14. The duo said they had been there every day since it opened. Brander said she enjoys the coffee and Tim Bits, and didn't mind the long waits considering the business is new.
"The lines don't bother me," Brander commented. "The lines that bother me are the ones with people complaining. It doesn't bother me that it's taking long."
She went on to say the last time residents of Meadow Lake were as excited about a new business was when McDonald's opened its location. Brander added, it's refreshing to have a new establishment and the owners are doing a good job at keeping up with the demand.
Ellis also noted she is a fan of many items on the menu and the service so far has been good. She said the longer wait times should have been expected.
"Customer service has been excellent and I think they're doing a good job," Ellis concluded.
Meanwhile, Mirasty said a grand opening will be held in the future, but a date has yet to be set. He also added he's noticed the appreciation residents have for him and his wife, Janessa, for opening the location and it makes him feel good.
"It puts a tear in my eye because a lot of people wanted Tim Hortons in Meadow Lake and it took a lot of years to get it," Mirasty said. "Now that it's here, it's a lot different."