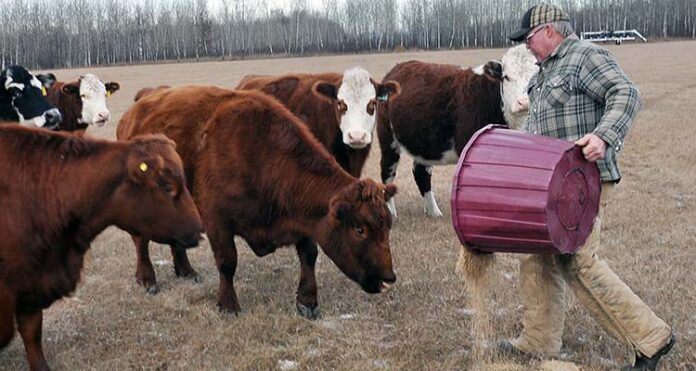 by Phil Ambroziak
When dry weather resulted in fewer crops this year, the price of hay went up leaving many ranchers throughout parts of Saskatchewan crunching numbers in an effort to balance their books by winter. Now, it seems, Mother Nature has decided to make things up to them.
"The weather's been pretty good for the last month or so – when there's no snow, there's nothing to keep the cows from grazing," remarked Rapid View area rancher Dwayne Ernewein with regard to the mild temperature and little snowfall experienced so far this fall. "I didn't actually buy any extra feed this year, and now I'm glad I didn't. We've gained at least 40 days where we've had to give the cattle minimal feed, so I should still have enough to get through winter."
Although Ernewein isn't certain as to exactly how much money he's saved by not purchasing additional feed, he said additional savings could also be factored in considering he hasn't had to start up his tractor as much to move bales.
All good things must come to an end, however.
"The mild weather isn't going to last much longer," confirmed John Paul Cragg, a warning preparedness meteorologist with Environment Canada. "It could be back, but right now we're looking at things cooling down by the end of the week and into the weekend, so the good times could be running short."
The reason for the warmer weather and lack of snow, Cragg added, can be attributed to a westerly flow of Pacific air.
"December is usually somewhat mild, but the reason we're really noticing it this year is because we didn't have that burst of really cold weather and heavy snowfall we usually see in November," Cragg continued.
The warmest day Meadow Lake has ever experienced in December was in 1997 when the mercury reached 10C. The coldest was in 1990, when the temperature dropped to -47C. The average for this time of year is a high of -10C and a low of -19C.