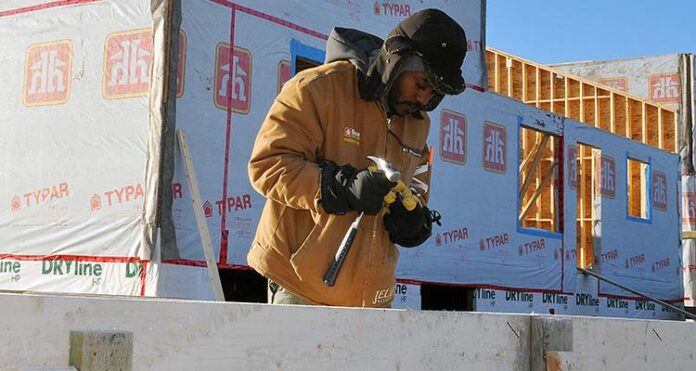 by Phil Ambroziak
Any outdoor work always goes better when the weather cooperates.
This is especially true in terms of construction, an area that's benefited greatly in recent weeks thanks to milder than normal temperatures and minimal snowfall throughout November and the early part of December.
According to Meadow Lake resident Don Brown, who is currently building two homes on Carl Drive, the progress he's been able to make in recent weeks would definitely have been impeded if the Northwest had experienced the typical weather patterns it does by mid-December.
"It's been a blessing because this time of year is usually a lot colder," Brown said.
Last week, Brown, along with members of his crew, were busy building roofs for each house. The roofs were constructed on the ground while a crane was used later to lift them into place before they were properly secured. This process would have been much more difficult, Brown reiterated, if temperatures were closer to average and if the community had already experienced a few heavy snowfalls.
"In my case, trying to get a roof finished this close to the start of winter, would normally be a pretty tough job because of the conditions alone," he noted. "I still have to deal with frost in the mornings, which makes things slippery, but I haven't had to sweep away much snow. That makes it much easier to get a lot more done. We've been able to complete a lot more of the groundwork – the dirt has been pushed off to the side and we've got most of the grading done. I expected things to be a lot worse by now."
Brown and his family have lived in the community since 2009 and he started construction on the Carl Drive houses in late August.
According to Neil Marsh, Meadow Lake's building official, the warm weather has helped certain project move ahead more quickly than normal. However, he also said it hasn't resulted in any more projects being initiated than usual.
"At our end of things, I don't believe there's been an increase in the overall number of construction projects, meaning there have been no new projects started," Marsh said. "But, the warmer temperatures and lack of snow certainly proved beneficial in terms of making a lot of the jobs that were already ongoing much easier. The warm, dry weather has certainly been welcomed by builders."
According to interim city manager Richard Levesque's most recent departmental overview, which was presented to city council Nov. 23, the previous month saw four new building permits issues with a total amount of $344,000.