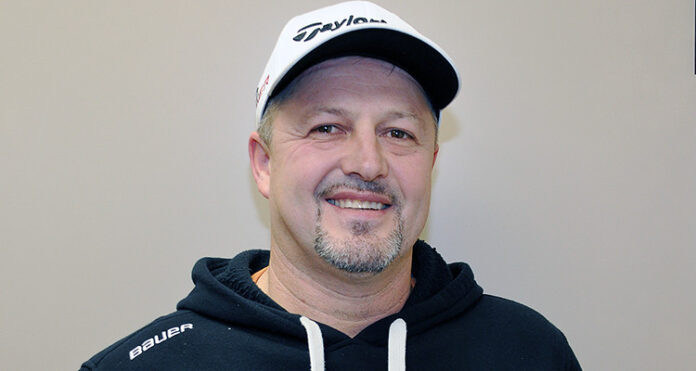 A lifelong resident of Meadow Lake, Darryl Worms is proud of the community's hockey heritage and of the contributions he's made to the local senior men's teams over the years. Recently, Darryl spoke with Northern Pride about the Meadow Lake Broncos, his career and his interest in travelling.
Q: What led you to taking on a coaching role with the Meadow Lake Broncos?
A: I was contacted by (Broncos president) Glen Dennis Jr. a couple years back when the team needed a replacement coach. I took over late in the year and tried my best to create a positive environment. We really needed a second senior team in Meadow Lake, so I did what I could to keep things moving forward.
Q: Have you coached the team ever since?
A: No. The following year they found two other coaches. That was good, though, because it allowed me to just help with on-ice practices. But, later I transitioned into being an actual player. Along with fellow veterans Rick Dallyn and Ray Esau, I took on sort of a mentorship role to help guide the younger guys. Many of them had never played in a men's league before, but we helped steer them in the right direction. That also helped to keep the team well organized.
Q: How did you end up coaching again this year?
A: I like to use the term interim coach. We're still looking for someone to take over fully because it's a lot of work, but there are a lot of great coaches in Meadow Lake. In the meantime, I've committed to Glen and Brent (Broncos co-founder Brent Brooks) to help out as long as I'm needed.
Q: When a new coach is brought on board, will you go back to being a player?
A: No, I don't think so. It's time for the younger guys to shine. I just want to help out and to keep developing these younger players. Player turnout has been great this year – we've had a roster of about 26 players all season.
Q: Have you ever done any other coaching?
A: In the mid-1990s, I coached Midget hockey and 'AA' Bantam for about five or six years. That's when I earned all my coaching certification.
Q: Why do you believe it's important to pass on the knowledge you've gained to others?
A: Years ago, people passed their knowledge on to me, so this is my way to give back. I also played ball for 20 years and helped to get a slow pitch league going, and I would take part in the Battle of the Badges hockey fundraiser for the Salvation Army. These are all ways in which I try to give back to the community that's been so good to me.
Q: Are you optimistic Battle of the Badges will also be back again someday?
A: Yes, I believe it will come back next year. I was surprised to discover it wasn't happening this year, but it was always a popular event that raised some good dollars. It will be back.
Q: Tell me more about your hockey career.
A: I've been playing hockey since I was about five years old. I played my entire minor hockey career in Meadow Lake. When I was in high school, I moved on to play with the Meadow Lake Stampeders. I played 18 seasons with the Stampeders and we won the Big-4 League championship in 1986. We lost Game 7 of the finals in 1987, but won again in 1988 and in the 1993-94 season. We also won a provincial title one year, while I also participated on the team executive with other club members. We did a lot of fundraising to keep the team afloat. I wasn't the frontrunner, just part of the overall group, but it was a lot of fun. We held cabarets and other events all the time and everyone would get involved – players, their wives, the executive, everybody. I also played Junior 'B' hockey for two years. One-and-a-half of those years was with the Meadow Lake Lakers, and I also had a cup of coffee with a Saskatoon team to finish off the season after the Lakers folded.
Q: How did you feel when the Stamps were unable to ice a team this season?
A: I was really sad to see the Stampeders fold. I'm a Stampeder forever and I really enjoyed my time with the club. It helped me to be a better person by being around those people. It was a fun time for everyone – the community and the players – and it is difficult knowing the team doesn't exist anymore. I hope to see the Stamps revived in another league someday and I'm not opposed to helping in any way I can. As I said before, two senior teams are needed in this town.
Q: Why is it so important to have two senior teams here?
A: Meadow Lake is a hockey town. People like to see their friends and their kids play hockey, and it's an activity people really like to be a part of – as players and as fans. When I was with the Stamps, we used to have busloads of fans follow us to all the small towns to see the guys play. A lot of good hockey players have also come out of Meadow Lake over the years. Some have touched the NHL while others have had promising junior and university careers. All you need to do is look at the number of jerseys hanging in the arena. People in this community live hockey, they breathe it and they've given up a lot for hockey.
Q: What have you enjoyed most about your hockey career?
A: The friendships. I've made a lot of friends over the years because of hockey and they've all been incredible. You don't lose that. I still have all those friends and I make new ones every year.
Q: Do you have a favourite NHL team?
A: My favourite team is the Edmonton Oilers. I grew up in the heyday of Wayne Gretzky and Mark Messier. Like a lot of people, they were my favourites and I grew up close enough to Edmonton that I was able to make it to some games once in a while. When you're able to see a team from the stands, it's easy for them to become one of your favourites.
Q: Having grown up in Meadow Lake, how has the community changed?
A: It hasn't really changed in my mind. It is bigger, but everyone still has the same mindset. We still have to travel a lot if we want to go somewhere… that's the way it's always been and people are used to it. In the summer we have the lakes and in the winter we have hockey. That's what keeps me busy. I also grew up on a farm, so it was great during the winter to always have a rink out on our pond.
Q: Do you spend a lot of time at the lakes during the summer?
A: I enjoy boating and wakeboarding, but most of all I enjoy spending time with my family.
Q: Do you have a cottage?
A: No, we're 45 minutes from Meadow Lake to the water, so we just go there and back for day trips.
Q: What's kept you here for so long?
A: Family and work for the most part. I spent 29 years working for General Motors as a journeyman auto body technician. At the end of my career, I retired from that and went to work at Meadow Lake Mechanical Pulp.
Q: Why did you change careers after so long?
A: I think I was just looking for a new challenge – to see if I could do something different. I had a great time at GM but, while everyone seems to have so many jobs, I only ever had the one.
Q: Do you have any hobbies?
A: Not really, but my wife, Brenda, and I own rental properties. That keeps us fairly busy. I like building things. We also tend to travel a lot more. We've been to quite a few places in the last four or five years.
Q: Is there anywhere you'd really like to travel to?
A: I'd like to hit the Hawaiian Islands. I haven't been there yet. I'd also like to go on a European tour, which is something that may not be too far off. In the next few years we may be travelling through the Alps.
Q: Tell me more about your family.
A: Brenda and I have two daughters. Courtney and her husband, Mitch Alger, live here and she works at the hospital as a lab technician. Our other daughter, Jordyn, lives near Vermilion, AB and works at the Lloydminster hospital as an LPN. Brenda works in logistics and sales at NorSask Forest Products. Both our families are from the local area.
Q: I understand you also have a nickname. Would you care to share what that is?
A: Bugsy. It's been my nickname since I don't know when. I've had it for years and years – probably since I was in grade school. To this day, there are probably some people who don't even know what my real name is.