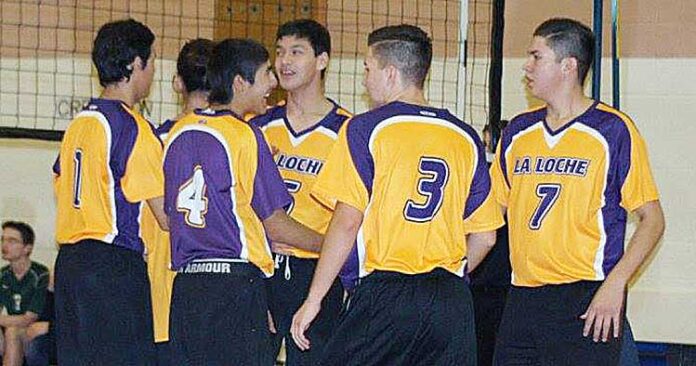 by Phil Ambroziak
Gold medals proved to be elusive for high school teams from the Northwest competing at this past weekend's provincial volleyball championships.
The closest any of them came was Goodsoil Central School, which secured a second-place finish in the Saskatchewan High Schools Athletic Association (SHSAA) 1A boys provincial event in Annaheim, SK.
"The boys are pretty excited about winning the silver medal," remarked Goodsoil boys volleyball coach Samantha Digiovanni. "As their coach, I'm also excited and very proud of them."
Pool play Friday afternoon saw Goodsoil earn wins over the squads from Gladmar and Avonlea, both in two straight sets. Later that day, however, they'd fall to the host team in two sets before going on to win two straight over Rouleau. In the playoff round, Goodsoil earned a win over Borden in two sets before meeting Pierceland in the semis.
"We beat Pierceland two straight to move on to the finals against Annaheim," Digiovanni said. "Unfortunately, we couldn't pull off the win and lost in two."
Pierceland, meanwhile, beat Colonsay in the bronze-medal game.
"Our school takes great pride in its volleyball teams – both boys and girls," Digiovanni continued. "We've always had a highly successful volleyball program here."
Two years ago, the Goodsoil boys team captured gold in provincial 2A volleyball. As for next season, Digiovanni said the team will undergo quite a few changes from this year's squad.
"We're losing a number of Grade 12s, so we'll be starting off with a relatively new roster," she said. "It will also be a smaller team, but it will be fun to see how we'll pull together and, hopefully, we'll have as much success as we had this year if not more."
In other provincial action, the Beauval boys team competed at Gravelbourg, SK for the SHSAA 2A championship where they went 1-3 in pool play before losing two straight to Edam (the eventual gold medalists) in the playoff round. Meanwhile, Island Lake First Nation School earned a bronze medal in provincial 3A boys action held in Preeceville and the La Loche Community School boys also secured bronze when they hosted the provincial 4A boys tournament.
"The tournament itself went extremely well, but the competition was a little higher this year than we've seen in the past," noted La Loche boys volleyball coach Phyllis Longobardi. "This made crossovers and playoffs much more difficult. Sure, we're disappointed we didn't win gold, but we just weren't alive for our Saturday morning game (against Melville) and just weren't able to make the plays we needed to make."
La Loche went 3-1 in pool play before earning a win over Shaunavon in two straight in the opening playoff round. They would go on to lose to Melfort, however, the team that ultimately took the gold.
"It was still a good way to finish up our season," Longobardi said.
In terms of what it was like to host the provincial event, Longobardi said it was a positive experience for both the school and the community, and she's heard nothing but great feedback.
"I've received a number of positive compliments," she said. "It was a treat for us to host provincials."