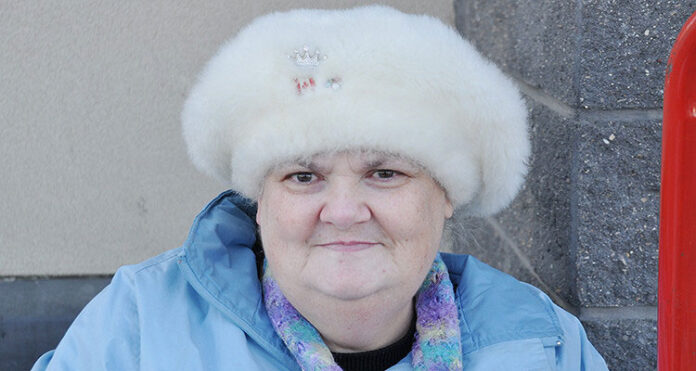 A volunteer with the Salvation Army since she was a teenager, Meadow Lake resident Barb Jansen understands the importance of giving to others. Recently, Barb spoke with Northern Pride about the annual Christmas Kettle Campaign, her love for movies and how she plans to spend the holidays.
Q: How long have you been volunteering with the Christmas Kettle Campaign?
A: Since I was 13 years old. I turned 60 Nov. 8, so it's been quite a while – more than 40 years for sure.
Q: How did you get started with the Salvation Army?
A: I came from a split-religion family. My father was Salvation Army and my mother was Roman Catholic. Dad wanted us to learn more about Jesus and not to believe in the saints like the Roman Catholics do. He took us to Sunday school where we got to meet the Salvation Army junior soldiers and corps cadets, and to learn about God. I accepted Jesus Christ when I was 13 years old and that's when I began volunteering.
Q: What was it like in those early days?
A: When we first started, we'd go out as a group – my brother, my sister and I along with an adult. We were living in Dawson Creek, B.C. back then and could only go out for about 15 minutes at a time because it was so cold. We'd take turns. These days, I dress a little warmer and am able to do it on my own for about an hour or more. It all depends on the weather.
Q: What motivates you to continue volunteering?
A: When I was a child, one of the Catholic boarding schools in Dawson Creek caught fire. The children in that school lost everything – escaping with only their pyjamas, their robes and their slippers. It was quite a few days before those in charge managed to get a hold of all the families and to make arrangements to get the children home. During that time, the Salvation Army made sure each child received at least two or three outfits, coats and boots – enough for them to get by until they were able to make the trip home. That's something that's always stayed with me. That same year, there was a family that also lost their house to fire. Those little kids didn't have much after that, and I remember there was a little girl about my age. The Salvation Army made sure every kid in that family had a Christmas gift, as well as clothes and everything else needed to help the family get back on their feet. That's always stuck with me too.
Q: The Salvation Army certainly does a lot for people in need.
A: Yes, it does. The Salvation Army always makes sure those less fortunate get toys and gifts at Christmastime, as well as a proper meal and a little extra love. That's another reason why I continue to do the Christmas Kettle Campaign. The money we collect goes to families in need. It's something that's very important for our community, as it allows us to continue taking care of the single mothers and orphaned children out there, and to help those people who've never had a chance to learn about Jesus.
Q: How else are you involved with the Salvation Army?
A: I'm what they call a senior soldier and I'm also involved in the Salvation Army's Kid-Z-Own after-school program. It's sort of a drop-in program that runs every Monday afternoon at the Salvation Army Church. We offer a snack, and do crafts among other things. The purpose is to teach the children about Jesus and to offer them an alternative to alcohol, drugs and gangs. It keeps them off the streets and gives them a place where they can learn the difference between right and wrong. If we don't teach them these things, who will teach it to their children or their children's children? If we don't do our part to help young people learn about God, one day there won't be any Christmas spirit and that's a very important part of my world.
Q: Where are you from originally?
A: My dad had inter-provincial heavy duty mechanics tickets for B.C., Alberta and Saskatchewan, so we moved around quite a bit when I was a kid. I was born in Edmonton, but was raised throughout those three provinces. It all depended on my dad's job as to where we would be, but we were never in one place for too long. My dad was originally from Loon Lake, though, while my mom Josephine was from Goodsoil. His name was James Stuart Gould, but he went by Stuart, and my mom's maiden name was Helstein.
Q: How did you end up in Meadow Lake?
A: My dad passed away in 1992, so my brother, James, and I came back to this area with my mom in 1994. She died in 2006, but we came here at the time because my brother was able to get a job here.
Q: Did you work in the area too?
A: No, I was on a disability pension through social services. I went back on assistance when I moved here and still have a disability pension to this day. When I was 24 years old, I had my first of two major collapses of the central nervous system. It was a physical collapse. My mind was clear – I could talk, I could tell you who the prime minister of Canada was, I could tell you who the president of the United States was – but I just couldn't walk. I was like a struggling drunk, so the fact I'd never drank made it very difficult for me to understand what was happening to me. Eleven months later I had my second breakdown. That's what took me out of the workforce. The doctors thought it would be too challenging for me, both mentally and physically, to suddenly change jobs.
Q: Do you have a family of your own?
A: No. I was married, but my marriage didn't last long. I don't have any children either.
Q: Aside from your volunteer work, how do you pass the time these days?
A: I make an awful lot of crafts, I quilt, I sew, I crochet – you name it. I do all kinds of things like that. I can crochet a queen-size blanket in two weeks. I make 90 per cent of the Christmas gifts for my church family and for my staff at the lodge. I live at Northland Pioneers Lodge in the enriched housing section.
Q: Where did you learn to be so crafty?
A: When I was little, I was part of a Salvation Army program called Home League. I used to go with my mother and it was through this program I learned to quilt. That's what started my love for doing these different things. My grandmother also encouraged me because she would always give us little embroidery kits and things like that as gifts. I've learned to make all sorts of neat things and, every time I start something new, I'll keep on trying until I get it.
Q: Earlier you said you like to watch movies while you crochet. Do you have a favourite movie or a favourite genre?
A: I'm a movie buff. I own every Elvis Presley movie except for two and I really like the old musicals like The Sound of Music and Oklahoma. I also like Judy Garland, Doris Day, Debbie Reynolds, Danny Kay and Bing Crosby. John Wayne is my absolute favourite as far as westerns go, but I also like Jimmy Stewart. I love religious movies, and I tend to stay away from horror flicks or anything with a lot of violence. The old westerns have their share of fistfights, but never anything gory or awful. I have quite the love for movies because I grew up with them. When we did anything as a family, it was usually a trip to the drive-in. That was always a lot of fun. It's also part of our history that's gone by the wayside and could be another reason I fight so hard to teach people about Jesus. I don't want his teachings to fall by the wayside. If it wasn't for Jesus, I wouldn't be here today.
Q: What are your plans for the holidays?
A: Fortunately, I have Majors Peter and Karen Eason (of the Salvation Army). Over the last few years, I wouldn't have had a Christmas if it wasn't for them. They've always ensured people who don't have anyone else in their lives aren't alone on Christmas by either inviting them into their home or finding someone else who will do the same. Being with others is so important at this time of year.