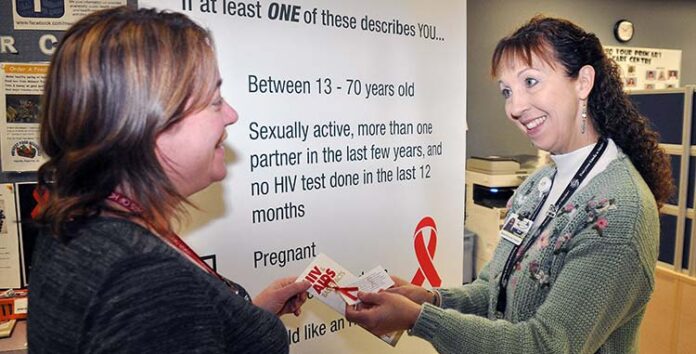 by Phil Ambroziak
Actor Charlie Sheen made international headlines recently when he announced he's HIV positive. However, HIV/AIDS is a disease that affects people from all walks of life and in all parts of the world.
"It's important people keep up-to-date and well informed when it comes to HIV and AIDS because a lot has changed in recent years," explained Merle Nightingale, regional HIV strategy Coordinator with the Prairie North Regional Health Authority. "It's no longer considered a death sentence, but rather a chronic illness."
Across Canada, the week leading up to Dec. 1 marked Canadian AIDS Awareness Week. It's an occasion to raise awareness surrounding HIV and AIDS issues nationally and it culminated in the international observance of World AIDS Day Dec. 1. World AIDS Day, which also launched the start of Aboriginal AIDS Awareness Week in Canada, is described as a time for reflection on what has been achieved with regard to the national and global response to HIV, and what must still be achieved.
"We have various displays about HIV and AIDS set up at the Meadow Lake Hospital and at the local clinic," Nightingale continued.
We're also going to hold a few events at the Door of Hope while AIDS awareness ribbons will also be available at different locations throughout the community. They come with a card that explains what the ribbon is all about."
HIV is transmitted by three main routes: sexual contact, exposure to infected body fluids or tissues, and from mother to child during pregnancy, delivery, or breastfeeding. Since its discovery, AIDS has caused an estimated 36 million deaths worldwide while, in 2014, it resulted in about 1.2 million deaths. As of 2014, 36.9 million people were living with HIV.
While Nightingale did not have a specific breakdown for this area, she said there are only six positions such as hers throughout the province and thus she estimates the numbers must be considerable.
"According to 2013 numbers, Saskatchewan as a whole is down, however, in terms of new cases," she said. "There were 129 new cases, which is slightly down from our all-time high of 199 in 2009. Per capita, rates in Saskatchewan are close to double of those throughout Canada."
Meanwhile, Nightingale said adults should be tested for HIV once every five years, adding a good number of people could be HIV positive and never know it because they don't get tested.
"These people are responsible for more than half the new cases, and they don't even know it," she said.
According to numbers reported by Health Canada earlier this year, HIV is extremely prevalent amongst Saskatchewan's First Nations. Statistics indicate there were 64 new infections per 100,000 people on reserves, compared with 5.9 per 100,000 in the country as a whole.