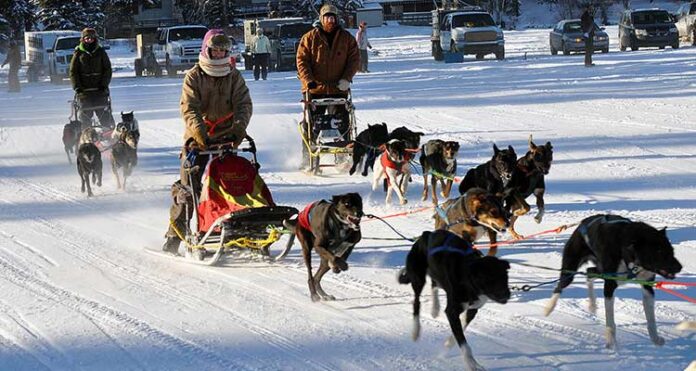 by Phil Ambroziak
Something was missing.
That's how Kevin Lewis of Ministikwan Lake Cree Nation felt six years ago while organizing a series of winter activities as part of the reserve's Kaniyasihk Cree Cultural Camp experience.
"We were offering things like ice fishing, snowshoeing and winter survival, but I always felt something more was needed," Lewis explained. "Finally, we hit on an idea and started fooling around with giving sled dog rides. Our kennel is quite unique because, not only are the dogs used as part of our ecotourism business, but they race as well."
Lewis was among the more than 20 participants on hand for the Meadow Lake Sled Dog Club's first races of the year, which took place Saturday and Sunday on Makwa Lake. The event, which served as a warm-up for the upcoming season, featured a six-dog race and an eight-dog race on both days.
"It was at least -30C out there, but the weather didn't matter because we were so focused on our dogs," Lewis said.
According to race organizer, Charlie Conner of Loon Lake, the event was held on the lake because of the overall lack of snow.
"The whole thing was just for fun and as a way to get the new dogs some experience and to figure out what works best prior to some of the bigger events of the year," Conner remarked. "Usually we attend a race in Prince Albert in January, but they didn't host one this year."
The local club also originally planned to host a two-day event this coming weekend in Meadow Lake, but because of the small amount of snow on the ground, that event has been postponed to Feb. 13 and 14.
"This past weekend's races went very well," Conner continued. "We had 12 people compete in the six-dog race and 11 in the eight-dog. There were a lot of local people, as well as some from Prince Albert and one guy from Regina Beach."
Todd Sinclair of Prince Albert was the winner of the six-dog race on both days while Jacqueline Fineblanket of Makwa Sahgaiehcan First Nation (racing for Tom Ouellette) claimed the eight-dog race on Sunday. Sinclair, meanwhile, also won the eight-dog race Saturday afternoon.
Aside from the upcoming event in Meadow Lake and future races in Loon Lake, the Meadow Lake Sled Dog Club will also be racing this year in such locations as The Pas, MB, Preeceville, Prince Albert, Southend and Fort Nelson, B.C.
"It's awesome," Conner said when describing his love for sled dog racing. "I grew up doing this, but it's something you can't really describe – it's something you have to experience for yourself to truly understand."