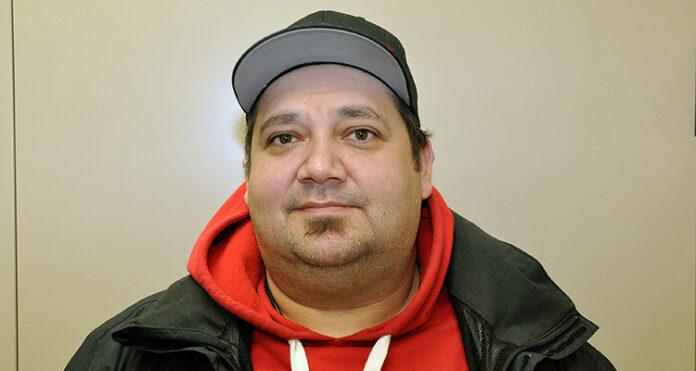 With three children experiencing ongoing success in minor hockey, Meadow Lake resident Marty Ross understands the importance of hard work both on and off the ice. Recently, Marty spoke with Northern Pride about his time as a player, his children's hockey careers and his involvement in the world of chuckwagon racing.
Q: Did you grow up in the Northwest?
A: Yes, in fact I was born in Meadow Lake. Growing up, I also lived in a few of the smaller communities in the area like Makwa and Dorintosh. But, I always played hockey in Meadow Lake.
Q: Tell me about your minor hockey years.
A: They were good. They were a lot of fun and I had the chance to play with some guys who went on to become very good hockey players. The majority of them went on to play major junior hockey while others, like Jeff Friesen, went on to the NHL. I also played with Greg Ducluzeau, who went on to have a promising university hockey career and guys like Jeremy Norman who is still in Meadow Lake and heavily involved in the local minor hockey system. We played all of our minor hockey years together.
Q: As you grew older, did you stick with the sport?
A: I had a lot of opportunities to play junior hockey, but at that time I wasn't ready to leave town. Also, the Meadow Lake Stampeders was such a well-known and well-loved team back then. I really looked up to them and that's who I wanted to play with. I joined the Stamps straight out of minor hockey and played with them right up to about five years ago when I broke my back.
Q: How did that happen?
A: Oh, it was just a freak accident at work. I was hauling a hot water heater out of a house when I stepped down off a cement pad and jarred something. It wasn't sports related.
Q: However, speaking of sports, did you compete in anything other than hockey when you were younger?
A: I've played a little bit of volleyball and a little bit of baseball and softball, but I never got into a lot of school sports because they often ran at the same time as hockey season and my schedule was too busy to get involved in much else. I did take part in a lot of track and field during the off season, though.
Q: Earlier you mentioned the Meadow Lake Stampeders. What was your reaction when the organization was unable to ice a team this season?
A: I thought it was terrible they had no league to play in this year. I remember being a real young kid and looking up to that team. Later, when I had a chance to play with the Stamps, I remember seeing how other kids looked up to us. I sure hope they find something and are able to get the team going again.
Q: Do you also keep tabs on the Meadow Lake Broncos of the Beaver Lakes Hockey League?
A: I follow them a little bit. The Broncos is a great organization and it's nice to know there's another senior men's team out there for fans in Meadow Lake and the surrounding area to support. They're not as established as the Stamps were – at least not yet – because it will take years to get to that point. Still, I'm happy for them.
Q: Aside from being a player, how else have you contributed to hockey?
A: I've coached several teams over the years – everything from the Novice level all the way up to Midget. I also coached two years of Junior B hockey with the Onion Lake Winterhawks, and I worked alongside (Stampeders coach) Ian Turberfield a little bit as an assistant coach. Later this year, I'll be coaching Saskatchewan's female team at the National Aboriginal Hockey Championships in Mississauga, ON. That event gets underway this spring.
Q: How did you land that job?
A: My daughter, Delaney, has been part of the NAHC event for the past six years while my other daughter, Hailey, has been involved for the past four years. This year, my son, Roddy, is also trying out for the male team. I figured, if there's a chance all three could be going, I might as well throw out a coaching application. I did, and I was selected.
Q: Where are your kids playing hockey this season?
A: Delaney, 18, is playing in a U19 league in Warner, AB. She is having a really good season. Roddy, 15, is playing Midget AAA in Lloydminster as a member of the Rohan Rage, while Hailey, 16, is a member of the female Midget Stampeders here in Meadow Lake.
Q: As their father, how does it make you feel to see all the success they're having in a sport that's always been so important to you?
A: It's an unbelievable feeling. Looking at the stats right now, my son is one of the top three goalies in his league, Delaney is leading her league in points and Hailey is also leading her league. I just hope they stick with it and don't become sidetracked. I've been down that road myself and know how discouraging it can be to have diamonds one day and sand the next.
Q: What are your future hopes for them?
A: I just hope they succeed at whatever it is they choose to do in life. Next year, it looks like Delaney will play NCAA hockey in the U.S. If so, I hope she also gets a great education in whatever field she chooses to go into. Roddy is a first-year Midget, so it will be interesting to see if he chooses to pursue the Western Hockey League (WHL) or take the Junior A path and perhaps also one day play NCAA hockey. As for Hailey, she just likes playing for fun. Her big thing is actually rodeo. She loves horses.
Q: I understand you're also no stranger to horses.
A: My cousin, Adam Ross, owns all the horses, but I help out him and (chuckwagon driver) Kirby Stanley as sort of a barn hand. During the winter I'm too busy with hockey, but come May I'm pretty much with the horses all the time.
Q: Have you always been around horses?
A: My late uncle, Leonard Ross, was a renowned chuckwagon driver. I used to pretty much live with him during the summers and we'd travel all over the place. He taught me a lot about horses and now I have an opportunity to put the things he taught me to good use.
Q: Have you ever competed in chuckwagon racing or any other rodeo events?
A: I did a lot of team roping years back after my dad, Roy Ross, retired from the wagons. I did it from about the time I was six years old until I was about 15. I won a number of saddles and awards, and got to see a lot of places. I even went to the Indian International Finals in Farmington, New Mexico and Phoenix Arizona. I also tried my hand at being an outrider. I did that for about half a season, but found out I wasn't very good at it. One day, I hope to be able to drive wagons myself.
Q: Tell me about the rest of your family.
A: My wife's name is Ruby. She actually lives in Lloydminster for work purposes and that's how Roddy's been able to play with a team in Lloyd. We also have two other children – Kerry Corrigal, who lives and works in Canoe Lake, and Marty Corrigal, who works in Winnipeg.
Q: But, you're still in Meadow Lake, right?
A: Yes, I work at PineRidge Ford Place on Flying Dust First Nation. I maintain the building, do bookings, make sure the ice is up – basically everything.
Q: With everyone so spread out, is there often a chance for quality family time?
A: Yeah, but it's very tough. When we do get chances to be together, we cherish them. We had three days over Christmas where we were all together, but it probably won't be until next Christmas when that happens again.
Q: I notice you have some words tattooed on your forearms. What do they read?
A: One says, "Respect All" and the other reads, "Fear None." It's actually something I had done because of something my dad came up with when I was playing hockey. I used to play kind of on the rough side, so he always told me to respect the players I was against, but never to be afraid to do my job. It's advice I'll always carry with me.