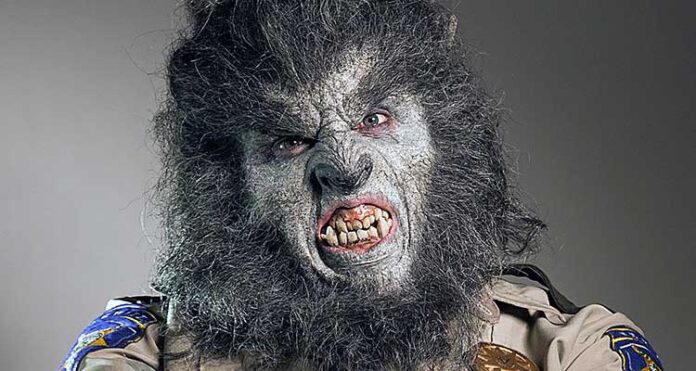 by Derek Cornet
An actor raised in La Ronge has been tapped to reprise his role in WolfCop 2, a sequel which is expected to begin filming next month.
"I haven't signed the contract yet, but they have asked me to play Lou Garou again," actor Leo Fafard remarked about reprising the main character in the film. "They've opened a production office and they've started pre-production in Regina."
At first, Fafard said he was leery about joining the film because he was unsure how much the budget would be. But, he's still planning to go to Regina and take part with what needs to be done before filming. Fafard noted work on special effect makeup began several weeks ago and progress should be speeding up soon.
WolfCop – which is a comedy-horror about a small town alcoholic cop who transforms into a werewolf after being cursed – premiered in Regina in June 2014. It was funded after makers of the movie won a contest called CineCoup, the prize for which included the support of a public and a professional jury, a $1 million prize and a guaranteed theatrical release.
Since the film wrapped, Fafard added he's been working mostly normal jobs including a position as a high-rigger for a communications company.
He studied drama at the University of Regina, and Fafard said acting has been a long-time goal.
"I've been involved with the film industry for nearly two decades," Fafard commented, adding he worked mainly as a film technician before the provincial government cut the film industry's tax credit. "It's something I'm looking at long-term and it's something I'd like to do for the rest of my life."
Fafard went on to say it was an enjoyable experience performing as Garou, noting it took many hours in the makeup chair to become a werewolf. He said the costume included masks, prosthetics and teeth, and he had to get in touch with his inner-beast to do the job.
"It's a lot of fun to lose yourself in a character that's not even human," Fafard remarked.
Kandis Riese of La Ronge has been a long-time friend of Fafard who still has family residing in the community. She was at the premiere of WolfCop and said viewers couldn't tell the movie was made on a tight budget. Riese also noted she was excited to see Fafard on the big screen.
"I'm always happy when I see a hometown kid do something cool," she remarked. "To me, it was well-written and it had a good storyline to it. Leo is perfect for the part. He's very animated and he's quite the character."
Meanwhile, there's no set date yet for the release of WolfCop 2. In a Creative Saskatchewan news release, however, producers promised it would be bigger, badder, dirtier and hairier.