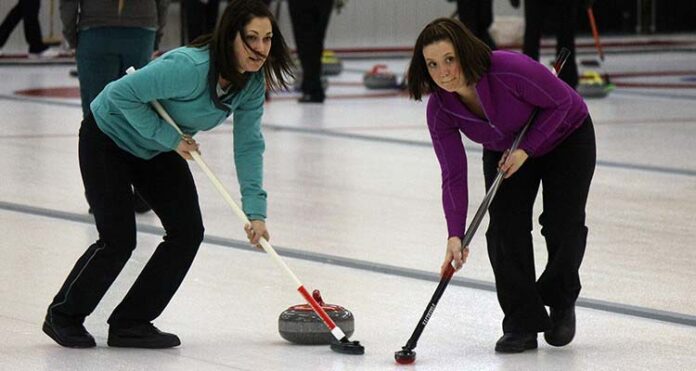 by Derek Cornet
The PineRidge Ford Curling Club in Meadow Lake is having a super year as it has a packed schedule until the ice thaws in two months time.
"Our rink is booked every weekend now until the end of March and it's an honour to be able to host all these events at our club," said bonspiel organizer Shannon Heddon. "If people are looking for something to do, there's always something happening here at the curling rink."
Between the ladies bonspiel held Jan. 8-10 and the last event in March, the club will host 10 bonspiels, including two provincial championships. Amongst the events to be hosted are the Knights of Columbus Provincials Feb. 26-28 and the Saskatchewan High Schools Athletic Association's Curling Provincial Championships March 4-6 for the boys and mixed divisions. Heddon noted the club needed to switch up the dates of current contests to accommodate everyone.
"We normally have our ladies bonspiel during the first weekend in March, but this year because we have the high school provincials happening that weekend, we have had to move up the ladies to this past weekend," Heddon commented. "The annual men's bonspiel has also been moved to the end of January and the mixed will be moved to the March 17 weekend because Easter is March 25."
While the ladies bonspiel attracted a healthy group of 12 teams, Heddon said she was happy with the turnout and noted participants were having fun as well. Even though most teams were comprised of local curlers, some travelled from Lloydminster, Saskatoon, Edmonton and Vermilion, AB, to take part.
This year's ladies bonspiel winners in the 'A' event included Tanya Ellis, Brenda Mutch, Courtney Hildebrand and Kelsey Tourigny. The foursome is a regular at the curling rink and play together Monday nights in the ladies' league. The Ellis rink defeated Amanda Barker's team to earn this year's title. Ellis – who has skipped in three former ladies bonspiels – said last weekend's win was her first 'A' event win.
"It's a pretty big deal for us," she added. "It's exciting because it's our first 'A' final championship."
During the group's final match, they were able to secure the lead by the sixth end.
"We took three in the first two ends and they came back and got one in the third," Ellis remarked. "Then, it was kind of back and forth, but we had a fairly big lead by the end of the sixth."
The win also marked the first for Mutch. She's been curling for 10 years and thought the bonspiel would have had a different outcome.
"I thought it would have been closer, but after a few ends we felt relaxed and we were able to win," Mutch concluded.