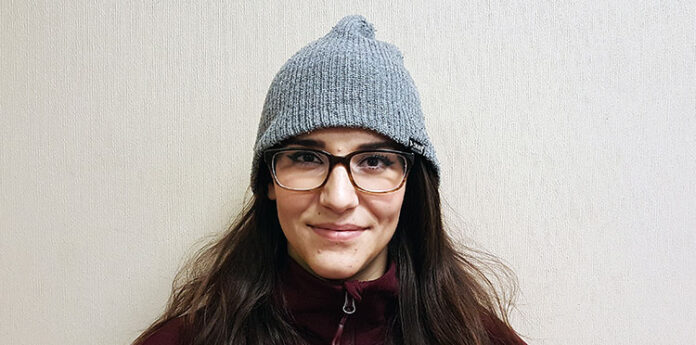 The world of acting has been kind to Meadow Lake's Dakota Ray Hebert who recently completed her first international gig. Recently, Northern Pride spoke with Dakota about how she burst onto the drama scene, her love for Saskatchewan and a Portuguese bar in Toronto.
Q: Do you have any upcoming work as an actor?
A: I do. Some stuff I can't really talk about because it hasn't been announced. I'm going to Prince George, B.C. soon for a show called Dreary and Izzy with Theatre Northwest. I'm excited to do it because I haven't worked with that theatre yet. After that, I'm going to Vancouver for a week to do a show I finished touring with this fall. The show's called Mistatim and it's with Red Sky Performance. It was my first international gig because we went through eight U.S. states and up to B.C. We started off in New York and made our way to the West Coast. We finished the play in Vancouver Dec. 9. I'll be touring with Mistatim again from March 28 to May 1.
Q: What sort of venues do you perform at?
A: It's a theatre for young audiences, so sometimes they'll have big theatres booked and they'll bus the kids in or we go to the school. With Mistatim, there will be three days in June when they'll be in Saskatchewan. I didn't say yes to those dates. In terms of a show I'm producing and performing in is called Salt Baby. That goes up in Saskatoon in May.
Q: It seems like you're rather busy.
A: I'm really fortunate. I'm blessed until the end of March 2017, but I can't say anything much further than my Salt Baby show in May. Other theatres haven't announced their seasons but, once they do, that's when I'm allowed to tell people what roles I have in which shows. I'm being looked at right now for a film. I'll find out soon if I got it. If I get it, it means I'm headed to Montreal to do some filming this summer. I landed a role on TV last year, but I had to turn it down because the shoot date conflicted with one of my theatre shows. It was hard to turn that one down.
Q: When did you begin acting?
A: That's always a really good question because I don't know who or what to credit. I've always kind of been the showboater in the family. Ever since I was a kid, I was kind of a goofball and always telling stories, acting stories and other things out. One of the earliest memories I have was after I finished watching Pocahontas. There's a scene where she's crawling through the bushes, runs up onto a rock and waves at John Smith. We lived in the trailer park and, there was the big long hallway, and I remember running back and forth pretending to run through the bushes.
Q: Were you involved in drama while attending school in Meadow Lake?
A: All the schools have drama programs and, if there was anything to do with drama, I was there. One big push for me was Bill Kresowaty who was my Grade 9 drama teacher and debate coach. One day he pulled me aside and told me drama was something I was good at and I should look into it. I didn't really believe him because I didn't know anyone in drama – it was more of a dream.
Q: When did you realize acting was a viable career choice?
A: Halfway through Grade 10 I moved to Regina. I was there for a year-and-a-half and I was involved with drama at that school. That's when I found out about Globe Theatre in Regina and the Regina Little Theatre. That's when I realized acting was obtainable and those were places I could work at. I moved back to Meadow Lake and graduated from Carpenter High School, but moved back to Regina shortly afterward. That's when I began auditioning and I landed a couple roles in two shows. Then, after that, I felt I was good enough to apply for the big leagues at the Globe Theatre.
Q: Did they ask you to audition?
A: They did and they also asked if I was interested in their Conservatory program, which is a theatre school. I told them I wasn't because I couldn't afford it. At the time, I was a stone chip technician at a glass shop. I couldn't afford to take four months off and pay tuition. They ended up offering me one of 10 spots along with a full scholarship. It turned out I was the first native student they had ever in the program. Regina Little Theatre gave me the confidence to pursue Globe and Globe gave me the beginning of my professional career. I finished the program in April 2012 and right after that I was hired by the Saskatchewan Native Theatre Company which is now known as the Gordon Tootoosis Nikaniwin Theatre.
Q: What kind of work have you had since that time?
A: I've been booked for the past three years and I'm booked for the next year. It's so surreal. Everything's starting to click together and I've found my footing in theatre. I've made some steady groundwork and I feel I can remain in it for a bit.
Q: What are your future goals?
A: My goal is to perform at places I've never performed at. I want to do more TV and film. I'm big on Saskatchewan and Meadow Lake. I don't want to leave this place because it's my home. I'm finding it to be a struggle to move to Toronto, but that's something that might have to happen for the spring and summer. I also do comedy and I've been looking into playing more with that stuff. A nice thing with tours is I can find the time to go to comedy clubs and do some sets, and make friends.
Q: What's it like moving so often?
A: A lot of my friends think it's glamorous and, when I first began doing it, I sure felt glamorous because I was living in hotels and eating at restaurants. It takes its toll, though. There are only so many chicken fingers you can eat before you get sick of them and I miss having a stove to cook on. It's also hard for me to have things because I don't really know how long I'm going to be in one place. I'm really not home much. I have four suitcases – one for each season. They have all the clothes I need built for the weather.
Q: Can you share some stories from your travels?
A: I was in Toronto for a few months and there were two local watering holes I would frequent. One was a dive bar and the first time I walked in there it said café and also pub. When I walked in, it was like a record stopped and they all looked at me. They were all older Portuguese men and I said hello and asked for a coffee. The bartender was like, 'Yeah, but we don't have beer here,' and he kept saying it until a man in the back said he'd buy my coffee. He gave me coffee and I went to the back of the building. I sat down and began doing some work and the guy who bought my coffee walks over and he's drunker than a skunk. He was completely out of his mind and began rapping at me. He had a to-go coffee mug and he was spilling it and that's when I realized there was beer in it. I looked at the bar and the bartender was pouring beer in to-go cups, but trying to hide it to give to these men. That's when I noticed the suspended liquor licence on the window out front. I came back off and on and one day they asked what I was doing. I told them I was an actor in a kids' show down the block. Everyone thought I was an undercover cop and were always scared when I came in. I was proposed to twice in that bar and I also learned some Portuguese.
Q: Tell me about your family in Meadow Lake.
A: My dad is Mike and my step-mom is Karen, and there are six kids in the family. I'm the oldest, then there's my sister, Larissa Hebert. My brother, Layne Barker, works at the Co-op C-Store. My brother, Justin Hebert, is in Grade 11 and he's also a super good hockey player. I have two more brothers named Logan and Dylan. Dylan is seven and I think he'll be the next entertainer in the family.
Q: What do your parents think about your career choice?
A: They were worried at first. You're young, naive and you don't want to be going off into the world that's notorious for directors being slimy sometimes. When I started, I was nervous about meeting those directors but luckily I have not met any. It's not what people see in the movies. There are people out there like that, but I've been fortunate enough not to have met them. My parents are my biggest supporters. Whenever I have a show in Saskatchewan, they'll be there to see it.
Q: Is there anything else you've learned?
A: I've learned a lot about fancy foods. Everyone in theatre loves Brie and I think it tastes how dirt smells. It took some time getting used to drinking red wine and eating fancy cheeses a lot.