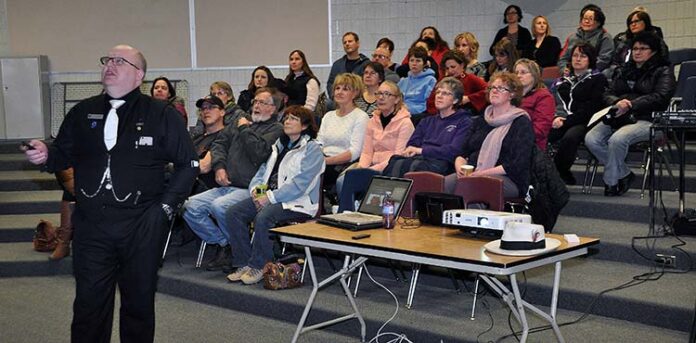 by Phil Ambroziak
It's a changing world, but there's a group of Meadow Lake and area parents determined to change with it.
Recently, the theatre at Jonas Samson Junior High School was filled to near capacity for a presentation about social media and the ups and downs associated with both responsible and irresponsible online behaviour. Featuring Darren Laur – an Internet specialist with Personal Protection Systems Inc. in Victoria, B.C. – Tuesday evening's (Jan. 12) talk was geared toward parents and followed two similar presentations for students held earlier in the day at JSJH and nearby Carpenter High School. All three presentations were hosted by Positively Parenting in Meadow Lake.
"We do a lot of work with parents in the community and the surrounding area, and we find there are a lot of parents who are struggling with barriers when it comes to social media and their children's personal devices," explained Thyra Berg, program manager at Positively Parenting. "There are also some people who struggle in terms of where social media fits into today's world and, as parents, what their responsibilities are."
Berg went on to say most parents understand the Internet, social media and the various technological advancements associated with them are the way of the world now. On the flip side, however, some parents don't know if the use of computers and mobile devices is something they can enforce and in what way.
"Parents should know what sites their children are visiting and who they're communicating with," she added.
Tuesday's session addressed these concerns, as well as such areas as technology's impact on the world, they types of things children have access to on the Internet and the subject of digital aggression (cyber bullying).
"Darren's presentation covers a lot of topics, but this session was designed to let parents know what part they play and how they can play it without creating animosity between them and their children," Berg said.
Laur also talked about the importance of Internet safety, as well as some of the other long-lasting effects online behaviour can have on a person's life. Examples included how employers often search a potential job candidate's name online prior to issuing a job offer. He also commented on the dangers of identity theft, but also highlighted the numerous positive actions today's young people are taking to improve their own skills and, in some cases, to help others.
"A lot of times, speakers will come in and talk about how bad the Internet can be and all about social media predators and such," Berg said. "Darren doesn't use scare tactics to get his message out and, as a result, you really see the kids respond."
Berg also stressed how important it is to continue to educate people – young and old alike – about what transpires online and how to act and, in some cases, react accordingly.
"It's crucial, especially for young people, because one click of a button can easily expose them to a lot of stuff that isn't age appropriate," she said. "We all need to be aware of that."
Among those in attendance for Laur's presentation was Meadow Lake resident Joanne Dishko. She has two teenage daughters and noted her desire to improve her knowledge about the Internet and social media.
"I'm especially interested in learning if there are any tricks when it comes to Facebook or cell phone security settings," she said.
Her number one concern, however, is online pedophiles.
"My kids are pretty smart, but online pedophiles can be so tricky," she said.
Established in 1993, Personal Protection Systems Inc. is a family run company dedicated to providing pro-active Internet and social media safety education, workplace violence prevention, safety awareness and self-protection training to schools, businesses, corporations, law enforcement and government. Laur, who often presents alongside his wife, Beth, is a serving staff sergeant with the Victoria City Police Department with more than 29 years of policing experience.