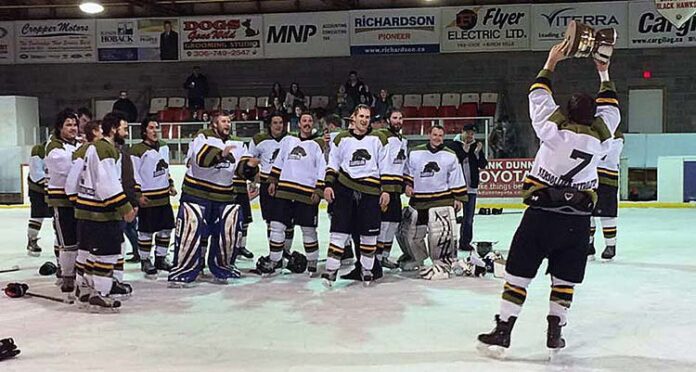 The Meadow Lake Broncos are this year's Beaver Lakes Hockey League (BLHL) champions, their first league title win since joining the league in 2012-13.
A 3-2 victory in Game 4 for the Broncos Friday night (March 18) ended the championship series against the Birch Hills Blackhawks. Meadow Lake won the best-of-five BLHL final three-games-to-one.
The Broncos entered playoffs as the top ranked team in the league and continued to dominate the post-season action. At first, it appeared they would sweep the championship series, but hopes of winning the title at home were dashed the previous weekend when Birch Hills gained a 2-1 victory at PineRidge Ford Place on Flying Dust First Nation in Game 3. When contacted last week, Broncos goalie Rick Dallyn said it would have been nice to win at home considering the large crowd on hand.
"The fans are the ones who've supported us throughout – that's what home ice advantage is all about," he said. "But, I have absolutely no problem with us winning it in Birch Hills."
For the full story, see next week's (March 24) print edition of Northern Pride.
Meanwhile, also announced following the final game were BLHL individual award winners. This year's recipients included: Top Goaltender, Rick Dallyn of the Meadow Lake Broncos; Most Gentlemanly Player, Ashton McIntyre of the Meadow Lake Broncos; MVP and Top Scorer, Rylie Currie of the Big River Braves; Top Defenceman, Tyler Tilford of the Birch Hills Blackhawks; Top Rookie, Ricky Iron of the Whitefish Flyers.