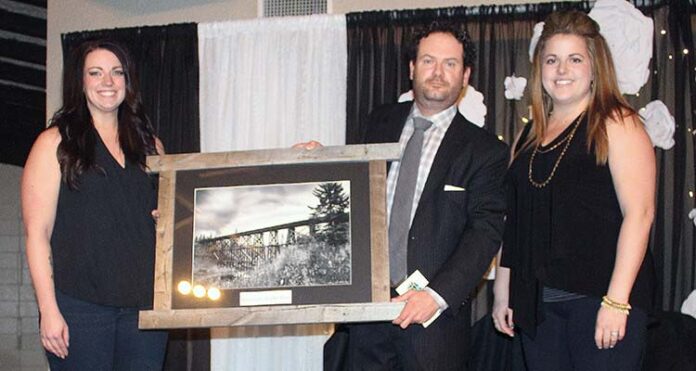 by Derek Cornet
Hundreds of people gathered March 16 to honour some of the Northwest's most successful companies at the 2016 Meadow Lake Business Excellence Awards (MLBEX).
Hosted by the Meadow Lake Chamber of Commerce, the event saw six awards given to businesses, groups or individuals for their outstanding service. This year's Business of the Year title went to Bliss Salon and Spa, which was previously nominated in 2015 while Volunteer of the Year was awarded to the Meadow Lake Lions Club. Manager Terri Alkestrup of Garfunkel's Grill was recognized for her customer service, Eatery on Main was the top contender in the Small Business category and Tawaw Cabins earned Aboriginal Business of the Year. Finally, the Community Builder Award was bestowed upon the late Elaine Yaychuk for helping shape the city through her significant and long-term contributions.
Bliss Salon and Spa co-owners Jenalee Blatz and Melissa Albright – who were both raised in Meadow Lake – opened their business in July 2013. Blatz had previously earned a two-year business diploma to prepare for operating a business and said the duo were quite excited starting out.
"It's been a learning experience," Blatz remarked. "Over the last few years we've learned a lot and progressed from it. Having a partner in a business like this is beneficial and we've enjoyed it for the most part."
Both owners were surprised to win the award, adding they were prepared to win or lose. They also noted it was an honour to be nominated alongside Extra Foods, Madill's Drug Store and Meadow Lake Welding and Machine/High Octane Welding. Blatz also noted the business wouldn't be where it is today without the dedication of its employees.
Albright noted, becoming a business owner wasn't what she had in mind, adding Blatz pushed her toward it. She said a lot of what they've done so far stems from Blatz's vision.
"I went in it all bright-eyed and bushy tailed and I've come out a little bit beaten up," Albright commented. "On the good side of things, it turned out to be wonderful. It's just a lot harder than I expected."
Chamber of Commerce president Wayne Marsh said Bliss Salon and Spa had a lot of momentum to win the award, considering they were previously nominated. However, he said the judges are kept a secret and they decided the winner based on a pre-determined criteria.
"They do contribute so much to people in the community," Marsh remarked. "It's nice to see entrepreneurs who are young, out there and growing their business."
Marsh also noted how important MLBEX is to the business community. He said it is the one time of the year they reflect on local companies and examine what each one is doing. By doing so, Marsh added it gives people a goal to strive for or ideas to become even more successful.