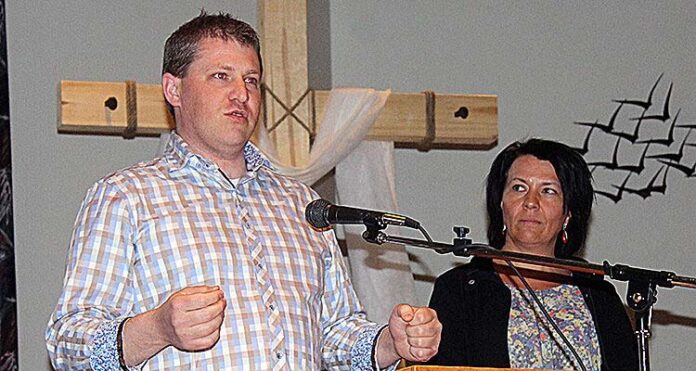 by Derek Cornet
In the last two years, discharge times at the Meadow Lake Hospital have been reduced by nine days.
That's according to clinic resource nurse Lori Shkopich and occupational therapist Janaya Dubray who presented at the Prairie North Regional Health Authority's regional review. The event took place April 12 at the Alliance Church in Meadow Lake and the presentation was one of two delivered to the public. Shkopich said, since 2014, health care providers have been working to reduce the time between admission and discharge.
"The goal of effective discharge planning is to ensure patients and families have services they need set up by the time they go home," she remarked.
In March 2014, patients at the Meadow Lake Hospital were admitted on average for 25 days while, by March 2016, the number of days was reduced to 16. The decrease is largely because of the introduction of communication methods and improvement in the discharge planning process.
Some of the changes include having a multidisciplinary team – including nurses, physicians, mental health and home care – involved with discharge rounds. When more people are educated on specific patients, Dubray said it speeds the process along.
"The purpose of the rounds is to have comprehensive teams, so everyone can share information with each other," she commented.
Also at the review, Dr. Annette Viljoen and registered nurse Dean Sinclair talked about improvements at the Meadow Lake Primary Health Care Centre. According to the duo, since nurses were introduced at the clinic close to three years ago, patients prescribed the drug warfarin are enjoying better results. Viljoen said the difficult of aspect of the drug – which is a blood thinner – is controlling its level in the body.
"Patients have to get blood work done frequently – sometimes weekly or more often," she remarked. "Before we had RNs in the clinic, we struggled through it and patients had to get blood work done at the lab, then results had to get to the clinic. We had to have a good way of getting results fast for the doctors to look at."
Viljoen added results would sometimes pile up at the clinic because doctors were too busy seeing patients to do both jobs. She said results weren't delivered as fast as they could be, were missed or delayed by days. Viljoen also said having an RN available allows for someone to contact patients about results in a more timely manner.