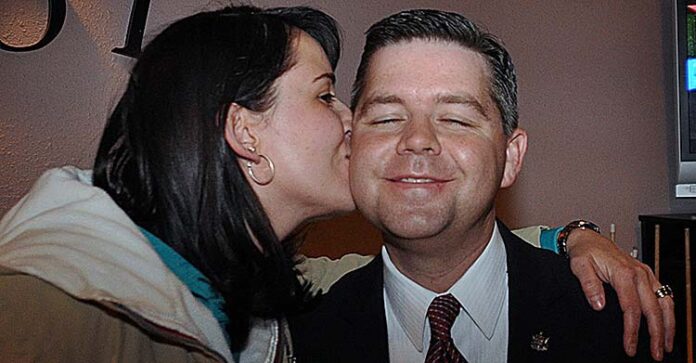 by Phil Ambroziak
Among those riding the Saskatchewan Party's wave of success in Monday's provincial election is Meadow Lake's Jeremy Harrison.
Harrison, the Sask Party incumbent, was handily returned to office for another term, defeating NDP candidate Dwayne Lasas, as well as Liberal Eric McCrimmon and the Green Party's Eric Schalm.
Harrison was named the winner only a short time after it was declared the Sask Party had won its third majority government. The Sask Party captured just under 63 per cent of the vote and prevailed in 51 of the province's 61 constituencies. The New Democrats took a little more than 30 per cent of the vote and won 10 seats. In Meadow Lake, Harrison received 70.4 per cent of the overall vote, while Lasas finished second with 23.1 per cent, McCrimmon third with 4.8 per cent followed by Schalm with 1.7 per cent.
"I want to personally say thank you to all of you for your votes and for your support," Harrison remarked during his victory party held at the Bear's Den restaurant. "This has been five elections you've supported me and (my wife) Alaina through, and we genuinely appreciate it. It looks like we've done very well here in Meadow Lake and I am so grateful to all of you for your work and so grateful to the constituents of this great riding. It's been a a great campaign, I've been to every community, knocked on basically every door we could reach in the constituency in the last 27 days."
Harrison also thanked the many volunteers who assisted with his campaign, and acknowledged friends and family members, along with other campaign team members for the time and effort they put into his re-election bid.
"Obviously, I want to thank Alaina too," he said. "My children, Mac and Finn, are around here too. They're now five and seven, and this is the second campaign for both of them."
A former Conservative MP, Harrison was first elected provincially in November 2007, making him the youngest Canadian ever to have been elected to both the House of Commons and a provincial Legislative Assembly.
Only three seats changed hands in Monday's vote. The NDP picked up Prince Albert Northcote and Regina Douglas Park — both of them targeted ridings — but lost Saskatoon Westview, the seat occupied NDP leader Cam Broten.
"It's unfortunate Cam lost his riding," Lasas said. "He was great to me along the way and it's always unfortunate when a leader loses his or her seat."
As for his own campaign, Lasas said his team worked hard, but he will respect the decision of the people.
"I congratulate Jeremy and wish him the best," Lasas continued. "He ran a great campaign – I just hope the Sask Party delivers on the promises it has made."
Lasas also said he would consider running again in a future election.
"I've introduced myself to the people, so I may run again in the future," he said. "We'll see what happens."
McCrimmon echoed these sentiments.
"I am positive I will at least be running in some constituency next election," he said.
McCrimmon said he now plans to focus on his studies and future career.
"Although, I must say, I am deeply disappointed in the voter turnout this election," he said. "I believe less than 60 per cent of eligible voters voted, and that is a sad fact for our democracy."