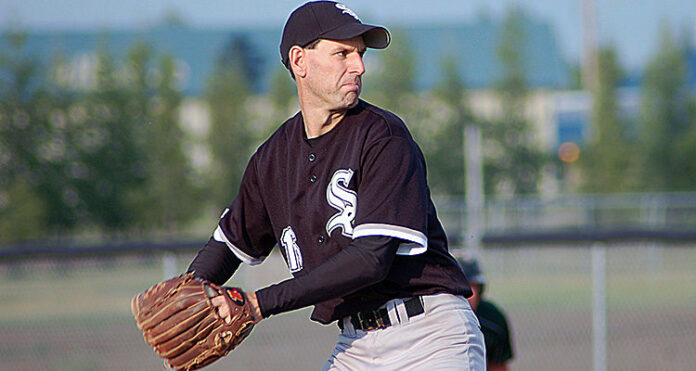 by Phil Ambroziak
"The crack of the bat, the sound of baseballs thumping into gloves, the infield chatter are like birdsong to the baseball starved."
As true as this quote from Canadian novelist W.P. Kinsella may be, it won't be long before local baseball fans get their fix. The Meadow Lake Senior Sox of the North Saskatchewan River Baseball League (NSRBL) are scheduled to begin their 2016 season very soon and, according to team manager Kevin Gerwing, things are looking good for the boys in black.
"We plan to have our first practice some time this week, and it looks as though we're going to have the same team as last year with the addition of a couple of new faces," Gerwing explained. "We're going to try to build on last year's success and hopefully exceed what we were able to accomplish in 2015."
Last year, the Sox made it all the way to the semi-final round of the NSRBL playoffs before being knocked out of contention by the Lloydminster Twins. The squad also competed in the provincial 'A' championship playdowns, losing out in the finals of that event.
"We have a highly skilled core group of players," Gerwing added. "Last year, our pitching and defence were superb. This year, we hope to get a little more out of our hitting. We're in a different division this season, so we should see a big difference considering we won't be up against the best pitchers in the league night in and night out."
Last year, the Sox competed in the Smithson Division, which also featured teams from Lloydminster and area. Now, however, the addition of the Lloydminster Redhawks to that grouping (which also includes the Twins, Border City blue Jays and Midwest Expos), Meadow Lake has now been positioned alongside teams in the Smith Division. These include the St. Walburg Reds, Edam Blue Sox, Mervin Flyers and Standard Hill Lakers.
Meanwhile the Colliar Division, features the North Battleford Beavers, Macklin Lakers, Unity Cardinals and Wilkie Brewers. Last year, the Border City Blue Jays swept the Lloydminster Twins to earn the NSRBL championship.
"It makes much more sense to have Meadow Lake in the same division as these other northern teams," Gerwing said. "Being part of that Lloydminster group last year really taught us how to battle, but the numbers were really skewed regarding our batting stats. Our hitting did not reflect the overall success we had as a team, and that should turn around this year."
Meadow Lake's first game of the year is scheduled for May 25 against Mervin. Gerwing also said an issue encountered last year with regard to a lack of practice time has been avoided this year.
"Everything was made clear to us (from city hall) in terms of getting our schedule in," Gerwing said. "We've sent the schedule to the city in time this year, and I'm sure we'll hear back soon."
Meanwhile, at city hall, city manager Diana Burton confirmed there's a possibility another ball diamond could be developed at Lions Park to accommodate the growing popularity of baseball in Meadow Lake. This diamond, however, would be used by Meadow Lake Minor Baseball.
"There is a plan for another diamond, but it's contingent on talks with the Lions Club," Burton said. "We're trying to find an economical way to accommodate the large increase in baseball registration amongst younger players."