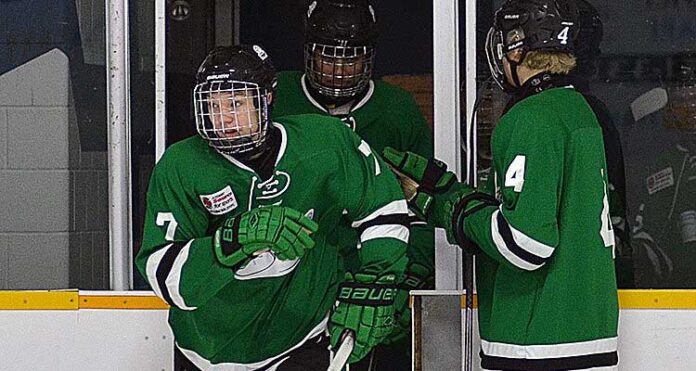 by Phil Ambroziak
Dylan Esau's hockey career is ready to blast off in a whole new direction.
Recently, Esau, who currently attends Grade 9 at Jonas Samson Junior High School in Meadow Lake, was selected in the 10th round (210th overall) by the Western Hockey League's (WHL) Kelowna Rockets at the 2016 Bantam Draft held in Calgary.
The draft took place May 5 and Esau was made aware of the results by that afternoon.
"It's very exciting," Esau said. "When it comes to the future of my hockey career, it's certainly a step in the right direction and a great opportunity. I had an idea I would be drafted, but had no idea Kelowna was interested in me. Most of the interest I was aware of came from other teams."
Much of the interest in Esau developed as a result of his recent involvement in the Saskatchewan Hockey Association's (SHA) Bantam SaskFirst tournament (April 14-17 in Regina).
"There were a number of scouts at that event – that's what the tournament was for," noted Esau's father, Len Esau. "We were hoping he'd get noticed and it turns out he did. I'm a little shocked and a little surprised."
Len Esau said, as the draft date drew closer, there was a lot of talk about his son from the Red Deer Rebels.
This past season, Dylan Esau played with the Midget AA Stampeders of the Centre Four Hockey League. Next year, he hopes to play for a AAA squad or possibly finish out another season with the Stamps. Because of his age, Esau won't officially be joining the Rockets yet, but he does have a foot in the door.
"You would have to be quite an exceptional hockey player to be drafted to a WHL team at 16 years of age and immediately placed on the main roster," Len Esau added. "This shows Kelowna has an interest in him enough to want to protect his rights. Hopefully he'll continue to develop into a strong enough player to some day make the team's main roster."
Dylan Esau said this is his eventual goal.
"I'd like to play for the Rockets for a few years and see where that takes me, he said. "If I'm someday able to play pro hockey, that would be a great accomplishment."
If this is the route the younger Esau eventually takes, he would be following in his father's footsteps. In years past, Len Esau played defence for a short time in the National Hockey League (NHL). He suited up for such teams as the Toronto Maple Leafs, Quebec Nordiques, Calgary Flames and the Edmonton Oilers. He then played in the semi-pro American Hockey League, International Hockey League and the Japan Ice Hockey League from 1995 to 2001.