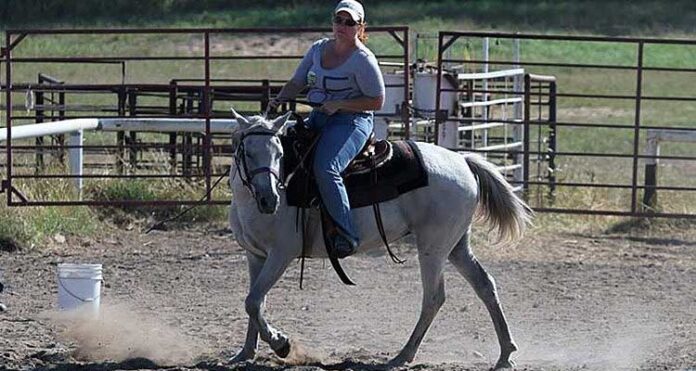 by Derek Cornet
Horse wrangler Tricia Kroeker's stable has been devastated.
On April 27, 11 of her 17 horses were euthanized after testing positive for equine infectious anemia – commonly known as swamp fever. Kroeker lives in Green Lake, but keeps her horses pastured in the St. Cyr Hills district. She said her horses didn't show signs of the virus, adding she was surprised to learn so many of them contracted it.
"Even losing one is difficult," Kroeker remarked. "One of the horses we put down I had been riding for 14 years. She was my best friend and now she's gone."
Kroeker suspects the virus was introduced to her horses last fall after she purchased a new horse and added it to the herd. The horse began showing signs of illness not long after, but she didn't suspect it was swamp fever. Kroeker was only made aware of the virus' presence after she sold a horse to someone else who had it tested.
The remaining animals in quarantine include a miniature horse, two horses belonging to her daughter and two young, untrained geldings. Kroeker has also been working with a federal veterinarian from the Canadian Food Inspection Agency and is waiting to get results back on a donkey. Kroeker said she tests her animals every two or three years for swamp fever and stressed her loss is due to other ranchers not doing the same.
"We're in a high concentration area," she stated. "There's a lot of people who don't test."
Kroeker went on to say some countries have laws requiring mandatory testing for swamp fever, but that's not the case in western Canada. She said many gymkhana associations don't require negative test results and those not insured through the Saskatchewan Horse Federation don't need them either. Kroeker noted, when cases arise, everyone panics and put rules in place, but these aren't enforced over the long term.
Currently, Kroeker is looking to replace the horses before the start of this summer's Bethel Gospel Camp. She's the head wrangler, but said finding kid-safe, quiet horses will be a struggle. Not only do horses need 100 hours of training before they're safe for groups of children, Kroeker is still waiting for compensation.
Meadow Lake veterinarian Dr. Ed LaBrash said Kroeker's case of swamp fever is the first he's heard of in 2016, but there have been many in the last five years. In 2013 as many as 53 horses (32 in Meadow Lake) had to be put down due to swamp fever in the northwest region. He added, cases tend to be sporadic and said the remaining horses will be quarantined until they either test negative or have to be euthanized.
"It's transmitted by biting flies – possibly mosquitoes," he remarked. "Horses are at-risk if they're in contact with infected horses."
LaBrash also noted some ranchers are at odds over the virus.
"You get into a lot of hard feelings over swamp fever," he continued. "A lot of people have had horses put down in the past. There's a lot of opinions and misconceptions. It's important to some people and some people just don't care."